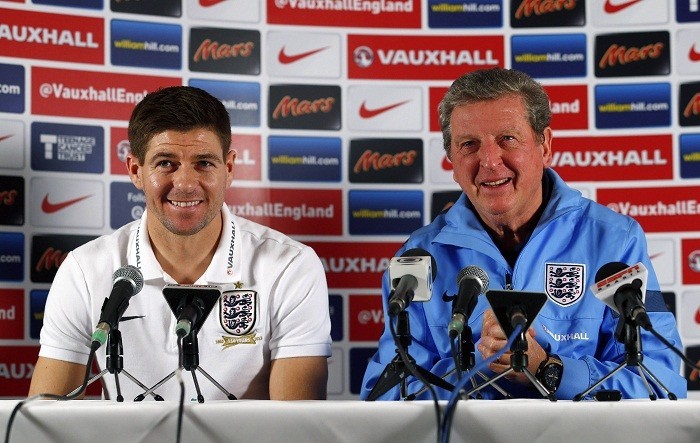 Having picked 30 players in the squad, Roy Hodgson will look to identify the final members of his team for the 2014 World Cup in Brazil when England host Denmark in an international friendly at Wembley.
England are not considered one of the favourites for the World Cup in the summer, even if they have a few big names in their squad. While the side have been efficient under Hodgson, they have been far from spectacular, with the manager's pragmatism coming to the fore on more than a few occasions.
However, England do have quite a few Liverpool players in their squad, players who have lit up the English Premier League this season with their attacking play, and England and Liverpool skipper Steven Gerrard hopes the players can take their club form onto the international stage.
"I think we've got five [Liverpool players] in the squad and everyone's in good form and feeling very confident," Gerrard said. "Hopefully if the lads are selected they can bring those performances to Wembley.
"There's a great feeling back at Liverpool and we're really happy with where we're sitting in the table and everyone's feeling great."
A lot of eyes will be on Liverpool youngster Raheem Sterling, who has been arguably the best winger in the Premier League in the last couple of months. "I think the form he's in at the moment he's the type of player you would pay good money to see," Gerrard said of his teammate. "He's the type of player that will get you off your seat. He's very exciting.
"People looking at Raheem see him as a small boy who can be bullied, or a weak player, he's the complete opposite. He's very strong, very robust and the pace he's got is electric. He's going to be a big player for his country for a long time and I'm just glad he's a Red.
Another player who will look to make an impression is Southampton left-back Luke Shaw, who was overwhelmed with emotion after being called up to the England squad for the first time.
"It's been very good so far, obviously my first day training was a second day of recovery but I still did join in a little bit with the lads," Shaw told The FA's official website. "We did a bit of a possession drill which helped with my confidence, I can't wait to get training again.
"I was quite nervous coming here first, they are all massive names and a few years ago I was watching them on telly. So to be talking and chatting with some of them and playing with them is great."
Denmark, who failed to qualify for the World Cup, will look to get some practise in ahead of the European Championship qualifiers, which begins in September.
International friendly: England vs Denmark Live TV Information (Match starts 8 pm GMT, 1.30 am IST (Thursday), 3 pm ET)
La Liga: Atletico Madrid vs Real Madrid Online Live Streaming Information (5 pm local time, 9.30 pm IST, 11 am ET, 4 pm GMT):