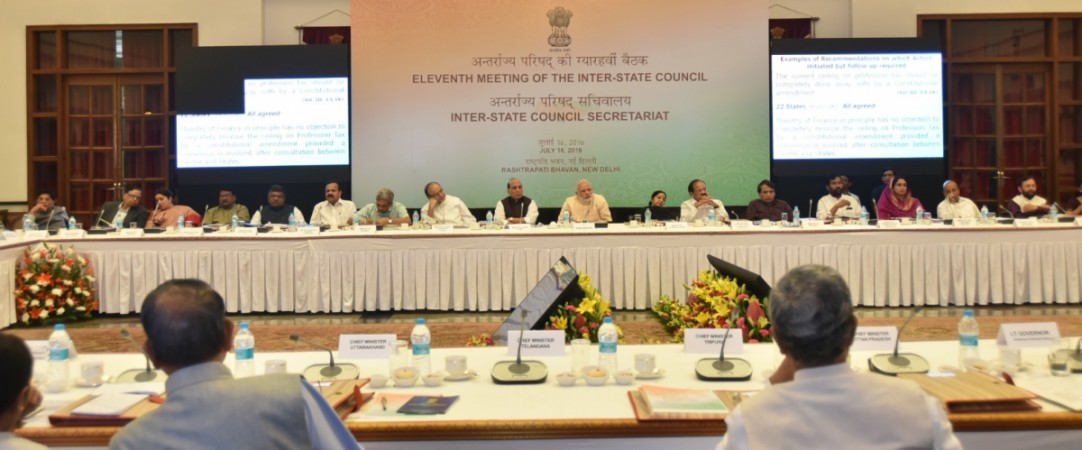 With a spate of terror attacks ravaging the world in the past few weeks, Prime Minister Narendra Modi utilised the 11th Inter-State Council meeting on Saturday to drive home the point for sharing intelligence inputs to counter security threats effectively.
Highlighting the issue at the one-day meeting, Modi said, "The internal security of the country cannot be strengthened until we focus on intelligence sharing, ensure greater coordination among agencies, and equip our police with modern approach and technology," he told the meeting being attended by chief ministers and senior ministers of his government.
"We must constantly remain alert and updated," he said in his inaugural address.
At the Inter-State Council meeting, convened after 10 years, Modi listed Aadhaar and education as two other important subjects in the agenda.
The meeting is also significant as it comes just two days before the commencement of the monsoon session of Parliament, during which the BJP-led NDA government would be keen to pass the Goods and Services (GST) Tax Bill, stuck in the Rajya Sabha where it does not have a majority.
Meanwhile, Bihar chief minister Nitish Kumar raised the demand for granting his state "special category status" during the meeting, reported ANI. The agency added that Modi is likely to seek the support of the chief ministers to the crucial indirect tax reform legislation to ensure its smooth passage, as it needs a two-thirds majority.
The meeting was also significant in the context of a Supreme Court judgement striking Arunachal Pradesh governor's decision to advance the state assembly session from January 14, 2016 to December 16, 2015 that created a political turmoil in the Northeastern state, leading to President's rule being imposed in January this year.
The SC judgement was seen as a snub to the ruling BJP at the Centre, since the party had facilitated the formation of a government backed by Congress rebels led by Khaliko Pul who became chief minister. The judgement paved the way for the restoration of the Congress government under the leadership of Nabam Tuki.
The Congress managed to win back the rebels to its fold by convincing Tuki to step down and make way for a new candidate in the form of Pema Khandu. The Congress Party's strength is now 45, with the return of dissidents including Pul in the 58-member Assembly. The BJP has 11 members.