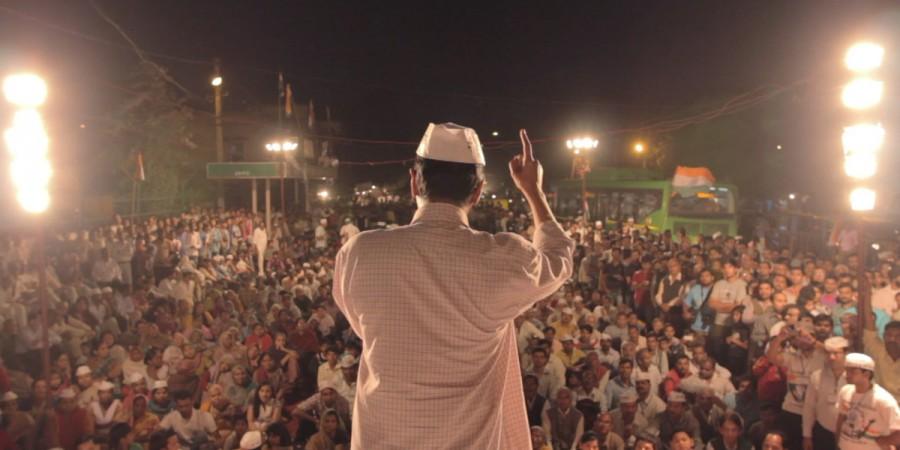 Political documentary on Arvind Kejriwal and AAP's rise, An Insignificant Man, is all set to release on November 17. A special screening was held on Thursday that is followed by positive reviews from many celebs.
An Insignificant Man includes all real-life footages. Directed by Khushboo Ranka and Vinay Shukla, the film had won accolades at over 50 international film festivals across the world.
Now, the film has been liked by many from the tinsel town as well. Celebrities like Ayushmann Khurrana, Harshvardhan Kapoor, Richa Chaddha, Ahana Kumra, Neha Dhupia, Rahul Bose, Vishal Dadlani, Soha Ali Khan, Kunal Khemu, Kalki Koechlin, among others attended the special screening.
The film includes 400 hours of footage over the course of a year, capturing the clashes between idealism and politics during AAP's 2013 election campaign. Check some of the reviews by the celebs here:
Ayushmann Khurrana took to Twitter to share, "Watched #InsignificantMan last night. A great insight of the delhi elections of 2013. It isnt easy to be apolitical when you're working in close quarters of a certain party. Kudos to Anand Gandhi and team for this real political thriller."
Harshvardhan Kapoor said," Having seen #AnInsignificantMan I can say it's something you should all look forward to. Kudos and all the best @Memewala"
He further added, "Anything that comes out that you guys are associates with is always world class ... waiting for the day you direct me!"
Richa Chadha said, "Excited to watch #AnInsignificantMan which releases tomorrow @Memewala. Curious about your take Anand."
Rahul Bose shared saying, "From Nov 17 onwards please go watch 'An Insignificant Man' & see, for the first time, an inside view of politics, no filters, observing the strengths and problems within our democracy as seen through the lens of a new party. @aimthemovie @khushbooranka @shukla_vinay @memewala".
Neha Dhupia said, "In other news ... very curious to watch this non -fiction political thriller
@aimthemovie @khushbooranka, @shukla_vinay @memewala #AnInsignificantMan".
Youtube Sensations Tanmay Bhatt and Abish Matthew also extended their support to the film.
Tanmay Bhatt said, "Next on the list is @aimthemovie - which is honestly good enough to watch once again. Irrespective of your political leanings, it's really worth a watch."
Abish Matthew said, "I had the absolute privilege of watching An Insignificant Man.
I do not think I have seen a better political thriller in my life. You keep wondering if it is real or fictional, And that is what I call a great film! Take a bow Anand, Khushboo & Vinay :) It's out tomorrow 17/11."
Vishal Dadlani took to Twitter praising the film saying, "Watched #AnInsignificantMan . Every Indian MUST watch it. Whether you love AAP, or hate it. Whether you are interested in politics or not. You MUST watch this film."
Soha Ali Khan shared her thoughts on the political thriller saying, "Gripping, entertaining and revealing, #AnInsignificantMan is a very significant film about politics, democracy and one man's journey from idea to action - see the link for details and watch it this weekend! @Memewala".
Kunal Khemmu also took to Twitter to shower praises for the film saying, "Captivating, exhilarating, thrilling and definitely not an insignificant film. #AnInsignificantMan is a must watch for all. Catch it in theatres on the 17th Nov. http://Aimmovie.com @Memewala"
Tumhari Sulu actor Manav Kaul also expressed his thoughts saying, "#AnInsignificantMan is a A very important film!!! It's a must watch for every Indian!! I loved it! Thank you @Memewala khushbo and Vinay Main pranam karta hoon! Superb !".