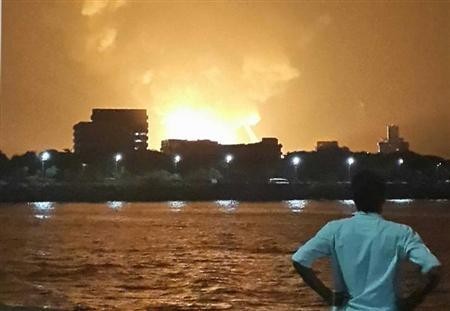 Just weeks after two officers were killed in a fire on board the INS Sindhuratna, a naval officer has reportedly died in another naval accident.
Television channels are reporting that the officer died in an accident on INS Kolkata, at the Mazgoan docks near Mumbai. Reports also suggest gas-leak mishap took place in INS Kolkata, an under-construction ship.
The INS Kolkata is considered to be one of the most advanced warships in India. A malfunction occured in the carbon dioxide unit of the ship which resulted into gas being leaked during the machinary trials, NDTV has reported.
A Navy press release initially said that the officer and some other personnel was affected and hospitalized. It was confirmed later that the officer had died.
In late February, two officers, who were initially declared missing since fire broke out on board INS Singhuratna submarine were later found dead.
The deceased officers - Lt Commander Kapish Muwal and Lt Manorajan Kumar - went missing after the fire mishap on board the 25-year-old Indian Navy submarine caught fire on 27 February. The incident left seven other sailors unconscious.
The Indian Navy has been dogged with accidents of late, Sindhuratna submarine fire being the 10th mishap in the last few months. An explosion on INS Sindhurakshak submarine killed 18 sailors in August last year, and INS Airavat, an amphibious warfare vessel, ran aground earlier this month.
The INS Kolkata in which the gas-leak mishap took place on Friday is the lead ship of the Kolkata-class guided missile destroyers. It was constructed at Mazagon Dock Limited and was undergong sea trial of late.
(Edited by Vanilla Sharma)