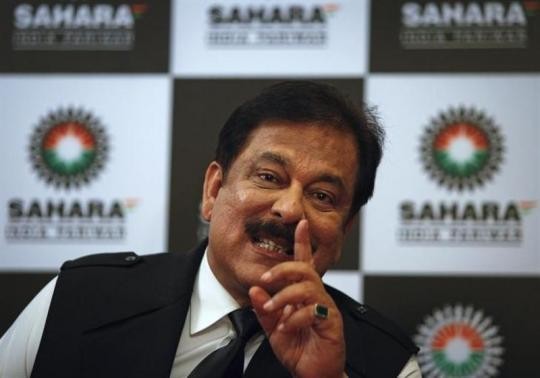 Sahara Chief Subrato Roy was attacked on Tuesday as he arrived at the Supreme Court and the attacker reportedly splattered him with black ink
The business tycoon, who is appearing in a case linked to his alleged failure to return money to over 3 crore investors, was being escorted by a heavy contingent of police.
A man, recognized as Manoj Sharma, who claims to be a lawyer from Gwalior is seen getting close to Roy amid din and chaos outside Supreme Court. He then splattered him with black ink while shouting "He robs the poor!" raising questions on the level of security around the apex court.
Sharma, who has now been detained, is believed to the same person who attacked Suresh Kalmadi with a slipper at a Delhi court in 2011, NDTV reported.
The Sahara chief was taken into custody on Friday after failing to appear at a Supreme Court hearing, which he claims was because he was attending to his ailing mother. The arrest was related to a multi-billion-dollar Sahara investment scheme that was later declared to be illegal.
The company, which is said to have a net worth of $11 billion or ₹68,000 crores has many real estate holdings. It also has grips in media companies and hotels including London's Grosvenor House and the Plaza Hotel in New York.
Meanwhile, the company claims that it has repaid most of the pending liability to investors. The Securities and Exchange Board of India (SEBI) says Sahara failed to adhere to the 2012 court order to repay ₹25,000 crore to investors.
The Supreme Court had ordered Sahara to furnish proofs and details on how it repaid investors. But it is reported that the company failed to give the details.
Sahara's main business entails selling financial products mostly to small investers across cities, towns and rural areas. Two such financial products were ruled to be illegal by SEBI.