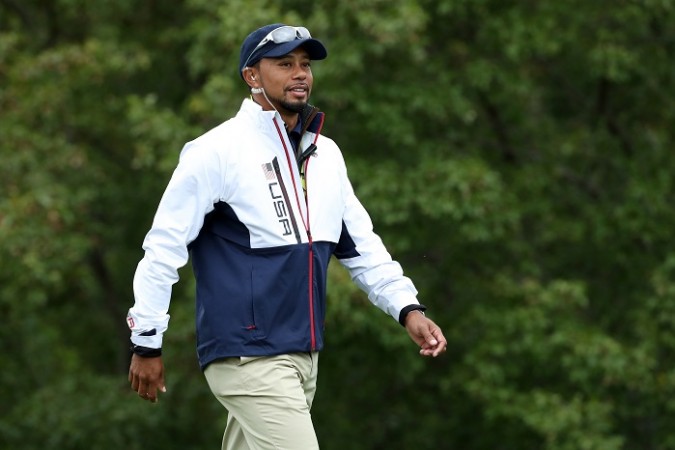 You would have thought, after seeing one comeback after another blow up in smoke as age and injuries catch up, Tiger Woods would have consigned himself to never being able to break the one record he has eyed the most since he became a professional golfer – Jack Nicklaus' 18-major titles.
However, such is the American's confidence, even after multiple injuries, that the 40-year-old feels he is not only capable of equaling Nicklaus' mark, but also beating it. Woods currently has 14 majors to his name, with the last one coming way back in 2008, when he won the US Open.
In an interview with Charlie Rose on PBS, Woods was asked if he still expected to win 18 majors and go level with Nicklaus. "To be honest with you, no," Woods said. When asked if he had accepted that fact, Woods replied: "I've accepted I'm going to get more."
If that answer was made with complete belief or just in defiance only Woods will know for sure, but it is clear that the American will need to produce one of the greatest ever comebacks in sport if he is to win five more major titles he needs to go past Nicklaus.
"I looked up to him, I looked at his record. ... I wouldn't say I lusted for his record," Woods said of Nicklaus' 18 major wins. "I just think that was the gold standard because he had won the most majors and the second-most Tour events."
Woods has seen his comeback from a back injury stalled multiple times, with the latest one coming when he pulled out of the Safeway Open earlier this month. Woods, who has not played on the PGA Tour since August of 2015, had initially revealed he would return from injury at the Safeway Open and then compete in the Turkish Airlines Open in November before making his presence felt at the Hero World Challenge in December.
Now, despite playing his part in USA's Ryder Cup win over Europe at Hazeltine, where he was one of the vice-captains, Woods is only expected to return in his foundation's event, the Hero World Challenge, to be played in Albany in December.
"I miss competing," Woods added. "And to be at my age now, at 40 years old ... I'm the first one to admit that I can't do the things I used to be able to do. Most people can't at my age, versus when they were younger. I have to find different ways to go about it."