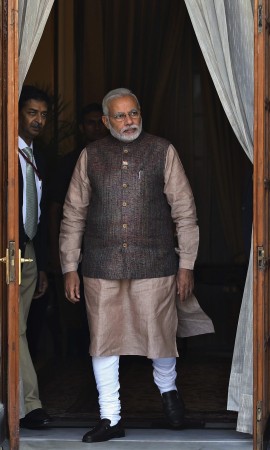 BRICS initiatives like New Development Bank (NDB) have made significant progress since their launch, Indian Prime Minister Narendra Modi stressed on Sunday, before leaving for the sixth BRICS Summit to be held from 14 to 16 July in Brazil.
The first meeting of BRICS (Brazil, Russia, India, China and South Africa) was held in Russia's Yekaterinburg in 2009.
In a departure statement, Modi said that India looks forward to the successful conclusion of major BRICS initiatives - the NDB and the Contingent Reserve Arrangement. The NBD, with a corpus of $100 million, finances infrastructure and sustainable development projects in BRICS and other developing countries.
The two initiatives have seen significant progress since their launch in New Delhi in 2012. Modi said these initiatives will support growth and stability in BRICS and benefit other developing countries at a time of political turmoil, conflict and humanitarian crisis in several parts of the world.
Modi also pointed out that there is also persisting weakness and unrest in the global economy. Having faced slowdown, many emerging economies have the increased challenge of pursuing inclusive and sustainable economic development, the Prime Minister stated.
"I leave today for Brazil at the invitation of Brazilian President Dilma Rousseff to attend the Sixth BRICS Summit being held in Fortaleza and Brasilia on 15-16 July 2014. Brazil will host, on the 14th, 15th, and 16th July 2014, the 6th Summit of Heads of State and of Government of BRICS, to be held in Fortaleza and Brasília," the Indian PM said.
At the summit, India would discuss the efforts to address regional crisis and security threats to restore peace and advancing economic stability, Modi revealed.
The BRICS summit will emphasise on social inclusion and sustainable development. The debate will be informed by the theme "Inclusive growth: sustainable solutions". The Summit will inaugurate the second cycle of BRICS. Each member country has so far hosted one meeting of leaders.
Modi said the Summit will also be the occasion for his first meeting as Prime Minister with the leaders of India's important global partners - Brazil, China, Russia and South Africa. The PM expects meaningful meetings with them to intensify bilateral relations and exchange views on global and regional developments.
The Summit will give an opportunity to Modi to interact with a number of leaders of South American countries.
India has traditionally enjoyed close, cordial and mutually beneficial ties with these countries. Modi said India shares common aspirations and challenges with BRICS.
"The Indian Diaspora in these countries also serves as the continent's enduring link with India, South America's all round progress makes it a potentially important pole of the global economy and a land of enormous opportunities for us. My interactions would enable us to explore new ideas on further consolidating and expanding our ties with South America," Modi aspired.