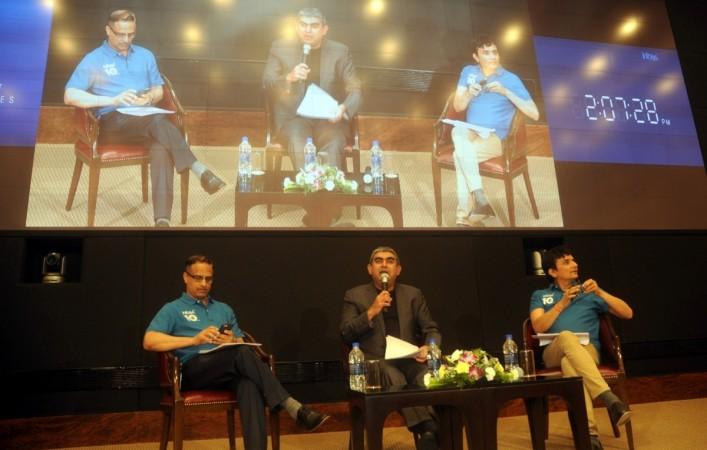 Update at 6.30 PM: In response to the news item on clients asking IT vendors to execute projects for lower prices that saw share prices of IT companies crashing on the BSE, Infosys has come out with a statement that COO Pravin Rao's views were "misrepresented."
"Infosys would like to clarify that the news reports on pricing cuts seen by the IT industry being attributed to the Infosys COO are incorrect. His comments have been misrepresented. The comments made in the interview refer to cost take out efforts by clients towards reducing their program investments in the 'run' side of business, to reinvest them in newer technologies or the 'change' side of business.
"Cost take outs by clients do not necessarily translate into an impact on vendor pricing. There are enough levers available to meet the client demand on cost take-outs without necessarily impacting the pricing.
"Infosys commentary on pricing is no different from what we have shared with the market earlier. We would like to reiterate that we are not seeing anything new on pricing. This has also been clarified in the webcast of the Morgan Stanley India Summit," the company said in a statement.
Original story:
Employees working in Indian IT software services companies need to contend with yet another disappointment: clients are asking IT service providers such as Infosys to execute projects for lower prices, invariably hitting revenues and thereby margins.
"They (the clients) are taking cost-take-out initiatives in most organisations from what is known as run-the-business. Typically, run-the-business is 70 percent of spends and now there is an urgent pressure to take costs out of this to 50 percent of spends and repurpose that towards new technologies and transformation," he told CNBC-TV18.
"At the same time, the pace of reinvestment is happening at a much slower pace compared to the cost-take-out," he added.
Clients are seeking a 20-30 percent cut in costs, the channel said, citing Rao.
Infosys shares were trading 0.13 percent higher at Rs 981 apiece, Wipro was down 1.08 percent to Rs 555, TCS was trading 1.11 percent lower at Rs 2,665. The BSE Sensex was up 116 points at 31,307 at around 12.13 pm.
The Reserve Bank of India's Monetary Policy Committee will be coming out with its statement on repo rate, GDP growth projections for 2017-18 and inflation shortly.