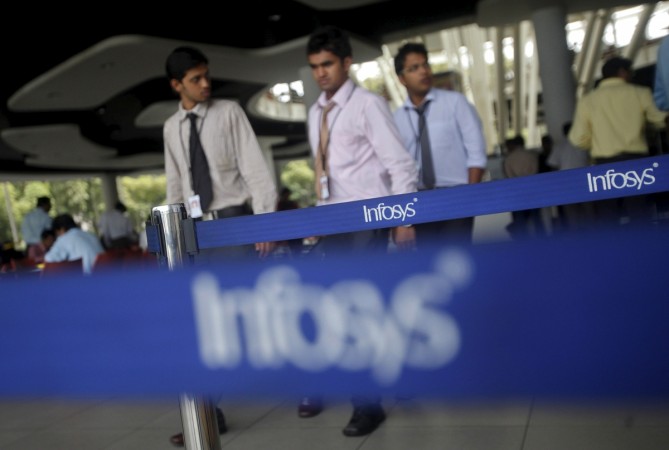 Compass could as well be Infosys's own LinkedIn, as the app enables employees searching for a different job profile to browse though a "curated list" of opportunities, network with co-employees who share similar interests and share a "humanised" profile with a video CV or blogs.
"Employees can create a humanised profile to showcase their professional achievements. Video CVs, endorsements, blogs and badges can also be shared," Richard Lobo, senior vice president and head-HR at Infosys, told the Economic Times.
The app is expected to give employees a clearer picture of the trends in the dominant skill sets and domains in the company. The app could also help Infosys retain talent within the organisation, while empowering professionals to shape their career.
Lobo told the news outlet that the new app aids employees to advance their career path without looking for opportunities beyond the company.
In the fourth quarter ended in March 2016, Infosys reported a marginal fall in net attrition level to 17.3 percent from 18.1 percent in the quarter ended December 2015, says an earlier Financial Express report.
"Employee attrition reduced further in Q4, and is reflective of increased engagement with our people all through the year, and our steps to make Infosys an exciting place for the world's best talent. We continue to re-imagine our internal processes to increase organizational agility," COO U B Pravin Rao was quoted in the report.
A research done by Kotak Institutional Equities indicates a two to three years lower attrition level in IT companies like Infosys, Wipro and Tata Consultancy Services (TCS), says an NDTV report.
The report also cites that IT companies are likely to focus on "employee retention, utilisation improvement" and better productivity, which may lead to a dip in gross hiring for 2017.
Mansee Singhal, principal talent at Mercer India, told the ET that companies are increasingly focusing on leveraging digital platforms to make internal processes more efficient while cementing the gap between demand and supply of talent.
"Having a designated platform for internal talent sourcing can work as a talent heatmap for current skills available internally and help match with business requirements which are live and real," she added.
This year, Infosys, along with TCS, Wipro and Zensar, shed the "bell curve" appraisal system following the example set by IBM and Accenture globally. This shows a leaning in favour of a more instant feedback-based performance appraisal system over the old system that emphasised categorisation of performers.