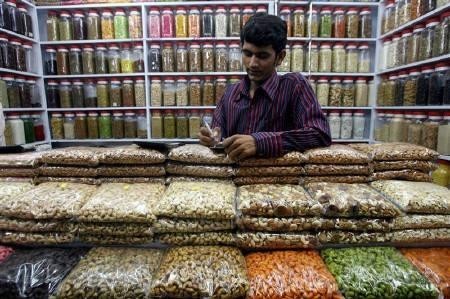 Inflation in India has eased to 5.43 percent in June, lower from the five-month high of 6.01 percent in May. The Wholesale Price Index (WPI)-based inflation figures touched the lowest mark in four months, thanks to food and fuel prices rising slower than before. In June last year, inflation stood at 5.16 percent.
Similarly, food inflation in the country, which was dangerously inching towards the double-digit figure, declined marginally to 8.14 percent in June from 9.5 percent in the previous month.
The government released the new inflation figures for June on Monday, and is set to release the Consumer Price Based inflation data on Monday evening.
Several economic polls had predicted inflation to fall, albeit marginally.
A poll of economists conducted by Reuters had predicted that the Wholesale Price Index (WPI)-based inflation would ease to 5.08 percent in June from the five-month high of 6.01 percent in May. The Consumer Price Index-based inflation was also predicted to have marginally eased to 7.95 percent from 8.28 percent in May.
Inflation has been the main foe of the newly-elected Modi government, as prices of essentials such as food and fuel have been rising, forcing the government to take tough measures to clamp down on hoarding.
The government's decision to impose curbs on exports of farm produce farm is said to have played a major role in helping ease inflationary pressures.
The Sensex was trading about 100 points lower at the start of the day in anticipation of the WPI and CPI inflation figures for June, Mint reported.
The annual rate of inflation based on final index stood at 5.55 percent in April as compared to 5.20 percent respectively as reported on 15 May, according to data made available by the Press Information Bureau.
Growth in India has remained below 5 percent for the last two years. In his first Union Budget, Finance Minister Arun Jaitley had stuck to the 4.1 percent limit for fiscal deficit.