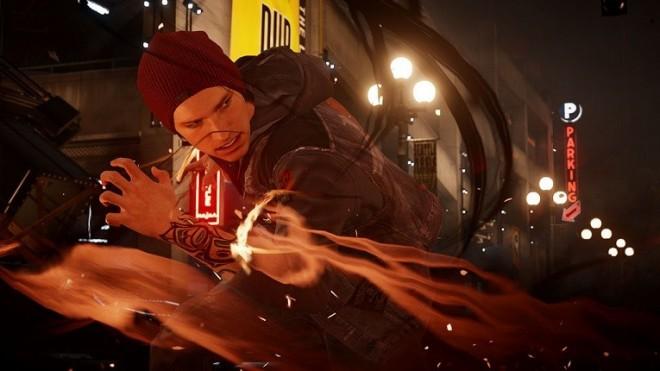 The PlayStation 4 exclusive action-adventure game, InFamous: Second son gets its day-one patch after its release on 21 March. This new patch will be adding additional content, fixing some of the bugs, gameplay tweaks.
In a description for the patch, it is mentioned that the content and gameplay can be used outside PlayStation 4. The description adds, "At the end of the rabbit hole is six weeks of weekly episodic game content that weaves in and out of the game, giving you more gameplay and backstory on the world of Second Son." It also directs people who managed to notice an Easter egg on the TV commercial of the game, to go to www.enjoyyourpower.com and find out more about it.
Players will also gain access to the Paper Trail storyline which will add more content. For players who have pre-ordered the game, will be eligible for Cole's Legacy Content Pack, which will add four additional story missions that will bring one hour of gameplay.
Below are the full patch notes of InFamous: Second Son (GameSpot):
Difficulty Balance
Normal difficulty has been slightly increased to challenge the player's mastery of their powers
Expert difficulty has been fine-tuned to ensure it as the best experience for skilled gamers
Karma progression extended to support longer playtime
Boss Fights
The boss fights have been re-tuned for difficulty and fun
More dynamic boss behaviors and attacks
Pedestrians and DUPs
Engine performance tweaks to allow for more life and activity in the city
Increased pedestrian and traffic density and variety
Increased pedestrian-related karmic opportunities
Post-story enemy activity and D.U.P. raids
Technical Improvements
Graphics and performance improvements
Fixes for a small number of infrequent blocking bugs
PSN integration to support Paper Trail DLC
InFamous: Second Son Review Roundup
This open world game is the third game in the InFamous series. The game is set in Seattle, Washington and happens seven years after the events of InFamous 2. Players in the game will be able to control Delsin Rowe, who will have superpowers that will help him fight his enemies.
Below are the reviews done by gaming websites on InFamous: Second Son -
Polygon - Rates it 8.5/10
"I struggled with feeling let down that Second Son isn't a brilliant shift for action games. My small disappointments come mostly as a result of undeveloped potential. It had a chance to be a superhero game about more serious issues as well as a showcase for the power of the new generation of consoles. Instead, Second Son is more of the Infamous I already loved last generation, prettier, with more powers and better writing. But Second Son still kept me excited to discover each new power set and happy to shoot fireballs at fascist thugs long into the night. Maybe it's not so bad to just let go of responsibility and blow stuff up once in a while." Read the full review here.
Videogamer - Rates it at 7/10
"It utterly changes the game. Arduous no more. Underwhelming no more. Fun. Joy. In InFamous. The novelty alone is worth a punt." Read the full review here.
GameTrailers - Rates it at 8.8/10
"InFamous: Second Son is visually stunning with rocking dynamic music to boot, but with its repetitive side-tasks, the finely crafted Seattle streets feel a bit lacking in things to do. Nevertheless, the game's characters and core story arc holds strong. The varied and eccentric powers give you a lot to experiment with, and you truly feel like a super-hero with the city at your fingertips." Read the full review here.
"InFamous Second Son inherits a lot from its predecessors but offers too little to the mix. Rowe himself holds the game together, while the satisfying traversal and combat mechanics show flashes of excellence. At times it feels too safe and at others it glimmers with neat ideas, which overall is just enough to recommend it." Read the full review here.
Eurogamer - Rates it at 7/10
"As pretty and playable as it is, in no sense is inFamous: Second Son a post-Grand Theft Auto 5 open-world game. It's just a tidier, shorter and shinier one. It's easy to enjoy and has a winning personality, but it's reluctant to deviate from a stale streetmap of game city. It's no rebel, then. In fact, it's a conformist." Read the full review here.
"Open-world superhero action games are about freedom and empowerment, and in these regards, Second Son is really impressive. Seattle is a big, beautiful playground for you to stomp around in with a set of devilishly fun and powerful toys at your disposal. It plays great, and it looks even better, but its advancements also beg it to be held to a higher standard, one that its overall story and morality systems struggle to reach." Read the full review here.
GameSpot - Rates it at 8/10
"Second Son focuses on pure enjoyment. It communicates that through the excellent combat that forces you to concoct crazy tactics to overthrow the invading forces... It uses a complementary score to underline dramatic moments, and the sound effects pop with flair. And yet, for all of the elements in which Second Son excels, the narrative fails to carry its share of the weight. Still, don't become mired in the negativity as Delsin so often does. Instead, just laugh at the cheesy dialogue and chortle at how extreme the morality system is. Second Son is a great game that knows exactly what it is, and sucks you in with its unfiltered fun." Read the full review here.
Destructoid - Rates it at 9.5/10
"Second Son is by far the best inFamous yet. If you're a fan of the series, then checking this one out is a no-brainer, and if you're not, consider jumping in with Delsin. You don't need any prior knowledge of the franchise to do so, and if you have any appreciation of open-world superhero games, you'll enjoy it." Read the full review here.
"Second Son doesn't just do shinier versions of the things previous Infamous games did. It multiplies and extrapolates on those things, letting them intertwine in really satisfying ways. So you get some skills that have choice built in, like sniping that lets you automatically go for headshots (evil) or hobbling (good.) You're a hero-or anti-hero, if you so choose-who can change the nature of his super-ness on the fly... Second Son feels like a game made by a studio reaching the peak of its own powers, on a new console that it's helping come into its own." Read the full review here.
GameInformer - Rates it at 8.5/10
"I like the way that Infamous Second Son splinters off from the first two entries in the series. Delsin's conduit ability creates uncertainty in the gameplay mechanics, and the choices he makes apply similar levels of ambiguity to the narrative arc. I never really grasped what was coming next from this tale, outside of knowing that the open world activities and encounters would be repeated ad nauseam." Read the full review here.