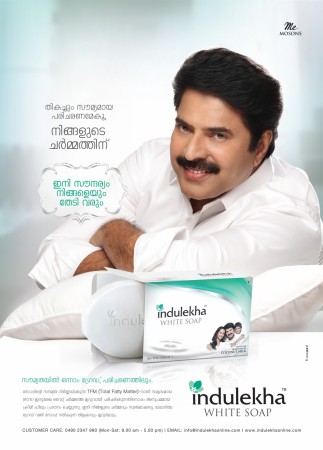 Indulekha, the makers of a fairness soap that is endorsed by Malayalam Megastar Mammootty, has decided to settle out of court a case in which a Kerala based man had sued them as well as the actor for Rs 50,000 after using Indulekha white soap for a year and seeing no change in his skin tone.
The complaint had been filed in the consumer court in Wayanad in August 2015 by 67-year-old K Chaathu from Mananthavady in the district. Indulekha has now agreed to settle the case outside court by paying Chaathu a compensation of Rs 30,000.
"We have all seen a series of advertisements by Indulekha white soap. Their claim seemed very convincing and Mammootty's appearance increased their credibility. But even a fraction of their claim is not true, I have experienced it," Chaathu, a sculptor by profession, was quoted as saying by The Newsminute. In the advertisements, Mammootty is also heard saying "Soundaryam ningale thedi varum" (Beauty will come in search of you).
Chaathu said he wasn't concerned about the compensation, but wanted to bring out the fact that celebrities are endorsing many fairness products that are making false and misleading claims. He also requested celebrities to become responsible while endorsing products as many blindly believe them.
"I have heard people in my village saying maybe a specific product is good otherwise Mammootty or Mohanlal would not act in its advertisement. I think many fans trust these celebrities, so they (the celebrities) should be more responsible to society. The soap is not special and it should be a warning to all products in the market that cheat consumers. I don't understand why these celebrities support these people," Chaathu added.
In a country like India, a lot of people are obsessed with having fair skin, and many fairness products seem to pander to this idea through their advertisements. And sometimes, they land in trouble for claiming to make the skin fairer.
In November 2015, a court had ordered Emami to pay a user Rs 15 lakh after its Fair and Handsome cream, endorsed by Shah Rukh Khan, failed to produce the desired results. The court had also ordered Emami to withdraw the advertisements featuring Shah Rukh Khan, according to a report in The Telegraph.