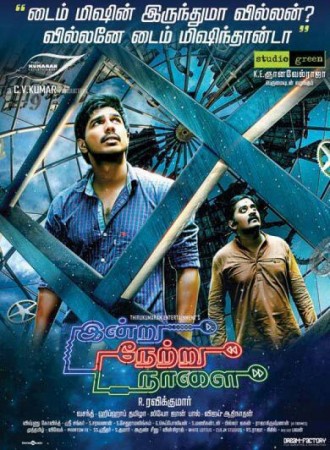 Tamil film "Indru Netru Naalai" starring Vishnu Vishal and Mia George in the lead has opened to positive reviews by critics who say it is 'less cliched', 'interesting' but also a little 'predictable'.
Directed by Ravi Kumar, the film has been described by many of them as 'an entertaining sci-fi movie.'
The director of the film has been appreciated for making a sci-fi movie, which is interesting for a common man, by avoiding high-tech, geeky terms in the film.
The technical aspect and performance of the actors have been appreciated by critics.
Here are the reviews of "Indru Netru Nalai" by critics:
The director has made sure to not confuse the audience with too many scientific terms and let the people enjoy the fantasy ride with very minimum science references.
Ravi Kumar has to be credited for taking a western theory like time travel and glazing it perfectly with local cultural sentiments. The story looks so complicated yet very convincing and it is for sure the hero of the film.
Though the film takes its time to settle, once the core concept gets established it moves at a steady pace till the interval. Thereon the story is filled with twists and turns, some surprising while some predictable.
Even though you might predict what's coming next at times, you still will be hooked up to the screen since there are plenty other things happening too.
With a crisp story, neat screenplay and good execution; director Ravi Kumar's Indru Netru Naalai is a sci-fi film whicht grabs your complete attention.
Without making it seem like a cliched sci-fi film that usually averts disasters, Netru Indru Naalai takes on the theme of time travel and teleportation.
The premise of the film could've been better, though. By the way it transcends back-and-forth to the present and the past, it starts getting a little confusing. This in turn makes the run-time seem lengthy! As the film proceeds, you realize that the final sequence is tense and almost grips you.
Ravi Kumar doesn't let you go drench completely into this, but offers some wholesome entertainment with a mix of humour, action, emotions and thrill elements.
The first half proceeds with lively moments and director's proficient brilliance in taking us directly into the main theme by the very first minute of this film becomes the highlighting USP. The way he has emphasized the establishment of characterisations is convincing.
One of the promising elements that make the film engaging is the lack of songs. Only couple of songs that too in the montage style doesn't hamper the pace.
Technically, the CG works have been very well processed and thanks to producers for rendering their support in nurturing these aspects.
Hip Hop Aadhi doesn't shine much here, but his song 'Indru Netru Naalai' used in different tempo is appreciable and cinematography is decorous as well. Editing has been crisply done.