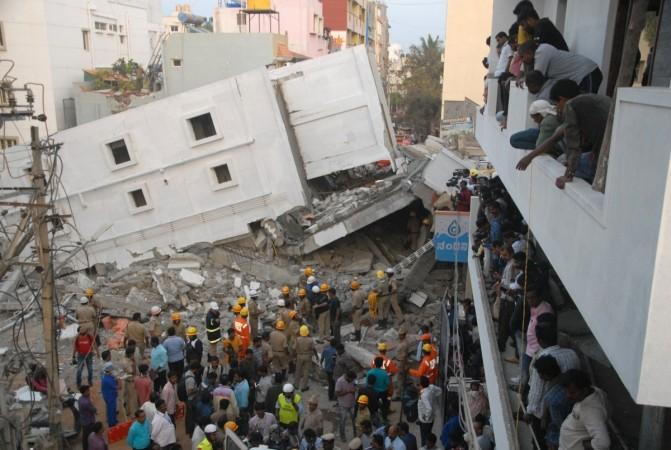 Weak buildings in the Chhoti Gwaltoli area are being demolished for safety reasons to avoid other such accidents.
The Collector of Indore has ordered a magisterial inquiry into the incident.
Shivraj Singh Chouhan has announced compensation for the family of the dead and the injured people
#Indore building collapse: #MadhyaPradesh CM Shivraj Singh Chouhan announces compensation of Rs. 2 lakh each, to the families of those who died, Rs 50,000 each, for those inured. The incident claimed 10 lives.

— ANI (@ANI) April 1, 2018
Madhya Pradesh chief minister Shivraj Singh Chouhan has called an urgent meeting to take stock of the situation. He also took to Twitter to share express condolences for the deceased
इंदौर के सरवटे बस स्टैंड के पास हुआ हादसा अत्यंत दुखद है। बचाव कार्य सहित पूरी स्थिति पर हमारी नजर है। ईश्वर से प्रार्थना है कि सभी सकुशल हों और घायल शीघ्र स्वस्थ हों।

— ShivrajSingh Chouhan (@ChouhanShivraj) March 31, 2018
Locals have also joined the rescue officials in their search operations.
Here are the latest visuals from the collapse site:
However, the reason for the collapse is still not known
Lok Sabha Speaker Sumitra Mahajan has expressed her grief over the incident. Besides asking the security officials to quicken their rescue work, she has also asked the administration to probe the causes of the collapse, reported The Times of India
Till now seven people have been rescued from the rubble and have been sent to a nearby hospital. Three of them are in a critical condition.
The police and fire security personnel are sifting through the debris as several people are feared to be trapped underneath it.
It's been around 11 hours since the incident took place and rescue operations are still on.
The area also has a major bus stand and several eateries.
Panic spread in the area, as the building houses a hotel called MS Hotel. The hotel, which is situated in Chhoti Gwaltoli area, reportedly had 25 rooms.
At least 10 people have been killed Saturday after a four-story building collapsed in Indore's Sarvate Bus Stand.
The incident took place at around 9:17 pm when a car crashed into a weight-bearing pillar on the front portion of the hotel building.