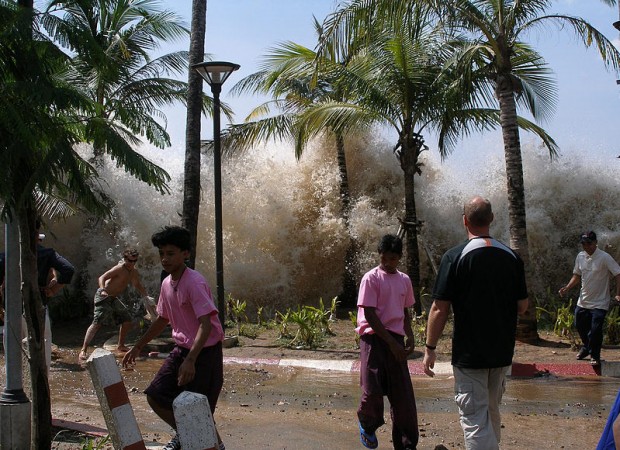 An Indonesian girl who was swept away by the 2004 Boxing Day tsunami has now been reunited with her family after a bitter 10-year estrangement, her mother has claimed.
Raudhatul Jannah and her brother, who were four and seven years old then, were separated from their parents while holding onto a piece of floating wood in the tsunami waters, when the calamity hit her West Aceh home on Dec 26, 2004, Daily Mail reported citing DPA.
Jannah's mother Jamaliah, 42 and her husband survived the calamity and searched for their children for more than a month, but subsequently gave up after assuming that they had died in the devastating tsunami.
In June, Jamaliah's brother came across a girl, who resembled Jannah, walking home from school and asked who she was. The girl told him that she had been swept away from Aceh in the 2004 tsunami to some remote islands southwest of the province.
A fisherman rescued the girl, took her back to the mainland and handed over to his mother, who raised the young girl like her own daughter and named her Weni.
Jamaliah and her husband visited the girl in the inland town of Blangpidie in the Aceh Barat Daya district in late June and found, to their utter delight, that she was indeed their daughter.
"My husband and I are very happy. I am so grateful to God for reuniting us with our child after 10 years of being separated," Jamaliah was quoted by the news agency as saying.
"My heart beat so fast when I saw her. I hugged her and she hugged me back and felt so comfortable in my arms," the girl's mother said adding that she could not stop her "tears from flowing" when they were reunited.
Jamaliah told Indonesian newspaper Harian Terbit that she was very confident that Weni, as she is now known, is her daughter because of her characteristic facial features, although Jamaliah has said that Jannah's skin colour has changed, as she had been working along with her foster mother, collecting shells.
The newspaper added that although Jannah is cheerful, she doesn't talk too much and noted that while she was already 14 years old, Jannah is only in fourth grade because of learning difficulties due to the trauma of the tsunami.