Indonesia has raised the alert level for the Anak Krakatau volcano, which triggered a massive tsunami on Saturday, December 22, killing about 450 people and displacing thousands of others.
The nation's disaster management agency, on Thursday, December 27, raised the alert level to 3, the highest, after revealing that the eruptions had intensified in the last few days. The volcano is still showing activity and huge plumes of ash and lava have been seen billowing into the air.
The region is also receiving heavy rains and the sea too has been extremely rough, raising concerns that the volcanic activity could trigger a second tsunami.
"The volcanic activity of Anak Krakatau continues to increase," said BNPB in a press statement, citing data from the Volcanological Survey of Indonesia. "The danger zone [has been] extended from 2km to 5km... people and tourists are prohibited from carrying out activities within a 5km radius."
In addition, residents have also been asked to be careful of the volcanic dust hitting the ground along with the rainfall. ''When the dust rains down, civilians are advised to put on a mask and glasses when outside the house,'' the Boston Globe quoted Antonius Ratdomopurbo, the secretary for the ministry's geology department, as saying.
A state of emergency has also been put in place until January 4. ''People are advised to keep calm and stay alert,'' said Sutopo Purwo Nugroho, spokesman for Indonesia's National Disaster Management Agency.
Flights rerouted
Numerous flights flying in and out of Indonesia have been rerouted as the volcanic ash has caused a "red alert" situation in the region.
"All flights are rerouted due to Krakatoa volcano ash on red alert," the government air-traffic control agency AirNav said in a release.
Speaking to the BBC, an AirNav operations manager explained that several international flights were affected. He said that though there haven't really been any cancellations, the duration of the flights have increased as they are being diverted to other routes.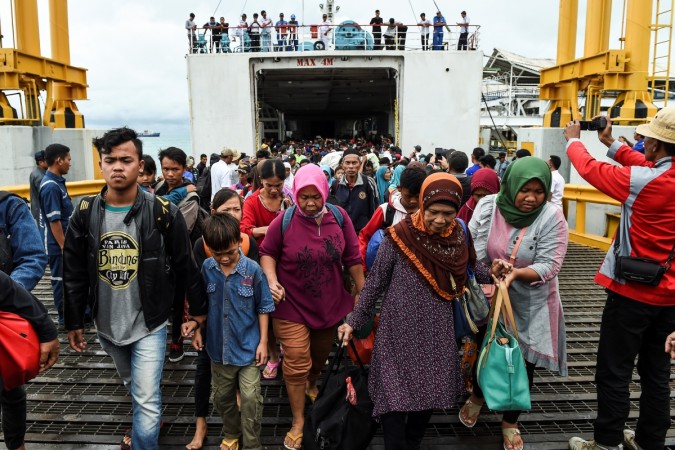 Search and rescue operations
Meanwhile, Indonesia is carrying out a massive search and rescue operation after Saturday's tsunami, even though authorities believe that the chances of finding survivors are bleak. Nearly 22,000 people have been evacuated from low lying regions and moved to shelters, but the rough weather is known to be hindering these operations.
"Our main obstacle is with the weather, but the operation is still underway,'' said Yusuf Latif, spokesman for Indonesia's National Search and Rescue Agency. ''We got through to areas that were previously deemed isolated, like the Sumur village and some areas on the west coast of Banten province.''