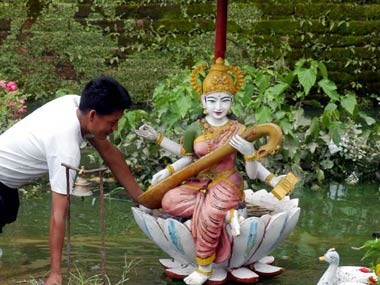 As a symbol of showcasing the flourishing Indonesia-US relation, the Muslim-majority country has erected a huge statue of Saraswati, the Hindu goddess of education and wisdom, in Washington DC.
Even though the huge white and gold statue located a mile away from the White House has not been officially inaugurated, it has already become a hot tourist spot.
In a Muslim-dominated country like Indonesia, the decision of erecting a Saraswati statue came as a surprise. Explaining the motive behind the cultural gift, a spokesperson of the Indonesian Embassy told the Press Trust of India (PTI), "Dewi Saraswati is one of the goddesses in Hinduism, the primarily practiced religion among Balinese people in Indonesia, which itself is the world's biggest Muslim-majority country. Yet, her representation at the Indonesian Embassy was not decided out only of any religious grounds, but more on its symbolized values that parallel with several key principles of Indonesia-US relations under comprehensive partnership, in particular education and people-to-people contact."
The idea of the statue was conceived by Indonesian Ambassador Dr Dino Patti Djalal and was built with the aid of National Economic Committee and Bali's Badung Regent.
"Although the official inscription is yet to be honored, the public can readily enjoy this 4.9-meter tall statue today by the entrance to the Embassy building on Massachusetts Avenue."
The beautiful statue done in traditional Balinese art was built by five sculptors from Bali in just three months time, after flying down the basic steel structure from Indonesia.
"At its conclusion, this statue evidently presents a strong flair of Balinese art as the sculptors put particular touches of gold on the predominantly radiant white figure, especially on the dress and head accessory worn by the goddess," the official said.
The body of the goddess has been done with a mix of cement. The goddess has been depicted to have four hands. One of the hands holds prayer beads (aksamala) symbolic of the unending process of learning and another one holds a manuscript or "lontar" depicting source of knowledge. The remaining two hands are seen playing the musical instrument "vina" with which Saraswati is ideally represented. The "vina" stands for arts and culture.
The statue has the goddess sitting on a large lotus which according to the Hindu religion is the symbol of purity of knowledge. A white goose by her side represents the wisdom gained from the knowledge.
The Indonesian spokesperson said, "With these culturally dense symbolizations, it is expected that the erection of this statue could help promote the importance of mutual understanding within the diverse society we are increasingly having today."