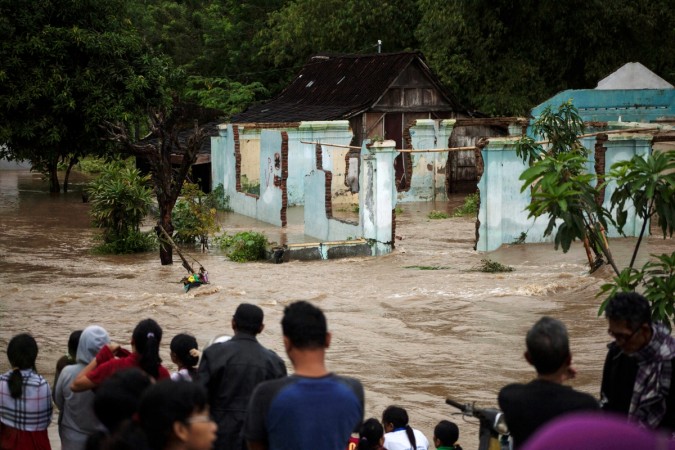 At least 43 people have reportedly been killed after torrential rains and floods triggered landslides in Indonesia's central Java province.
IANS quoted an official from the disaster management agency as saying that at least 19 people have gone missing while 14 were injured due to flooding and landslides that hit the country on Saturday.
Spokesperson for the Indonesian Disaster Management Agency Sutopo Purwo Nugroho was quoted by CNN as saying that dozens of houses have been buried under the landslides, while floods have submerged thousands of homes.
Nugroho was also quoted by the Xinhua news agency as saying rescue operations were underway to evacuate the affected people and locate the missing ones. He added that rescue teams have deployed a drone and five machine equipments to ease the operation.
Nugroho also said the worst-hit areas included the districts of Purworejo, Banjarnegara and Kebumen, and that landslides have blocked several roads, making it difficult for rescue teams to access the areas affected by the disaster.
According to CNN, 16 towns and cities across central Java have been hit by floods and landslides while the Bogowonto River in Purworejo has overflown its banks. Eleven deaths were reported from Purworejo alone while several have gone missing.
The channel reported that disaster management officials, the military and the police are being assisted by non governmental agencies and volunteers in rescue operations.
Meanwhile, one person died and thousands got displaced after heavy rains and floods hit west Sumatra on Thursday and Friday.
A warning has been issued to five provinces by the National Climatology, Meteorology and Geophysics Agency for rains in late June and early July. The agency has also predicted high tides and waves in the southern coast of Sumatra, Java and East Nusa Tenggara, CNN reported.