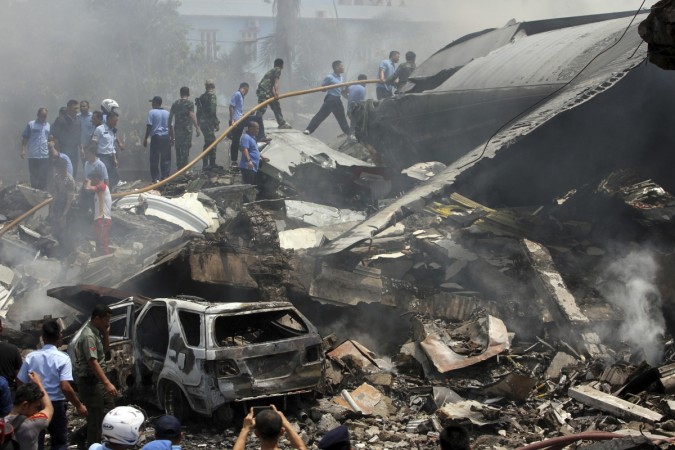 More than 100 people, mostly military personnel, were feared killed when an Indonesian air force plane crashed in a residential area on Tuesday.
Indonesia's military said that the air force plane crashed in Medan city in a residential neighbourhood, the Associated Press reported. The aircraft, aged over 50 years, apparently exploded moments before it crashed into some houses and a hotel.
There was no official account of the number of deaths in the accident. However, some media reports speculated the death toll be around 116, most of whom were on board the fateful Hercules C-130 aircraft.
"For the moment we know there were 113 people (on board). It looks like there are no survivors," Air Marshal Agus Supriatna told Metro TV in the Sumatra city of Medan. The passengers reportedly included some family members of the air force personnel.
It was initially reported that there were 12 military personnel on board the plane. However, a section of media later revised the death toll, saying "37 people were feared killed".
Earlier in the day, some Twitter posts suggested that there were several casualties following the crash. Hospitals in Medan City reportedly said that at least 20 bodies have been brought so far.
The reason behind the crash of the Hercules C-130 plane was not yet clear. It reportedly crashed a few minutes after it took off from the air force base in Medan.
Sebuah pesawat TNI jenis Hercules jatuh di Kelurahan Mangga, Padang Bulan, Medan (30/6/2015) siang pic.twitter.com/N7U1haskAk

— Suku Karo (@karobukanbatakk) June 30, 2015