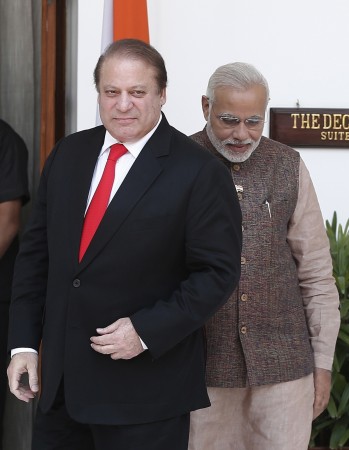 India's relations with Pakistan is evidently at the lowest point, and the Kashmir issue threatens to spill over on an international forum at the United Nations General Assembly, as India watches closely if Pakistani Prime Minister Narendra Modi will rake up the issue during his address, a day ahead of Modi's address on Saturday.
Even on the sidelines of the ongoing 69th session of the UN General Assembly, a war of words has begun between the two sides, with Pakistan's foreign affairs advisor Sartaj Aziz terming India's decision to call off secretary-level talks with Pakistan last month "an over-reaction."
Indian External Affairs Minister Sushma Swaraj retorted with equal measure, saying Pakistan "spoiled the game."
"The new government has given a new signal. So they (Pakistan) spoiled the talks, they spoiled the game," Swaraj told Indian reporters on the sidelines of the ongoing UN General Assembly session, Press Trust of India reported.
Aziz had told reporters in New York that the onus was on India to begin talks because "it was an over reaction by India. Hurriyat talks were nothing new. We've been meeting Hurriyat since last 20 years," he was quoted saying by PTI. "If India takes initiative, only then talks can happen because they had suspended the talks."
However, Swaraj gave a sharp reply to Pakistan's stand.
"No question of first or second. As far as our reaction is concerned we have said repeatedly that if a reaction had to come it had to come at this time only. The initiative was there from our side."
The question now on the minds of Indian officials is whether Pakistan will breach the Kashmir issue at the UN General Assembly, and if it does, how Modi will react to it.
Sharif and Modi had shown rare camaraderie when the former visited New Delhi for the Indian Prime Minsiter's swearing-in ceremony, and both leaders had agreed to push trade at the Wagah-Attari border.
However, when Pakistani envoy met with Hurriyat leaders last month despite India's discomfort, secretary-level talks to be held on 25 August were called off and relations have nose-dived ever since.