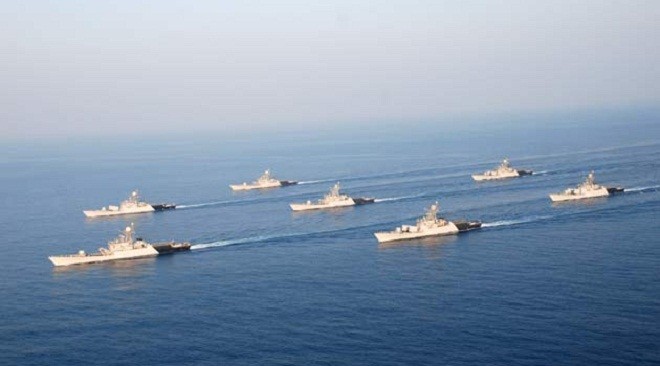 Amidst looming Chinese maritime threat, the first ever Japan-India Maritime Exercise (JIMEX) that will start from 19 December, is increasingly been seen as a step that will strengthen the Indo-Japanese maritime security relations.
The four day exercise that will be held in the Bay of Bengal will focus on Maritime Security Co-operation. The Indian Navy will be represented by the indigenously built stealth frigate INS Satpura, the Guided Missile Destroyer INS Ranvijay and missile corvette INS Kuthar. From the Japan Maritime Self Defence Force (JMSDF) two Guided Missile destroyers, JS Ariake (with Commander Escort Division - 7 embarked), and JS Setogiri will participate, a statement from Press Information Bureau stated.
In November 2011, India and Japan had agreed upon conducting bilateral naval exercise that enables both the Navies to undertake operations in the sphere of maritime security in the future. This is the second round of the bilateral JIMEX and the first to be conducted in Indian waters. JIMEX was conducted in the Japan waters in January 2012.
The naval exercise comes at a time, when both Japan and India are feeling growing threat from China. The Japanese government that recently announced its decision to increase its defense arsenal, primarily to counter China's threat, has an ally in India. The Indian government too has increasingly been worried about the growing threat from China over land-border issues, besides the growing presence of the Chinese in the Indian Ocean.
The Sino-Japanese have a long-running dispute over the islands in the East China Sea that are controlled by the Japanese, but are being claimed by the Chinese as well. But the growing military assertiveness of China, especially following the near collision with the US Cowpens and Chinese warships in South China sea and the unilateral declaration of air defence identification zone (ADIZ) by Beijing has raised worries, especially for India and Japan.
India that too has unending land disputes with China and has been concerned over the increasing penetration of the Chinese in the Indian Ocean. With its 'string of Pearls' strategy, the Chinese have built bases in Gwadar port in Pakistan and set up electronic intelligence gathering facilities on islands in the Bay of Bengal. Its canal project across the Kra Isthmus in Thailand is both a diplomatic and military expansion and the military agreement with Cambodia and building up of forces in the South China Sea, are all strategic military choke points for India.
With its geopolitical position and economic potential, India is a strong ally for Japan and both countries with their respective 'China threat' should foster stronger friendly ties that can serve a common agenda.