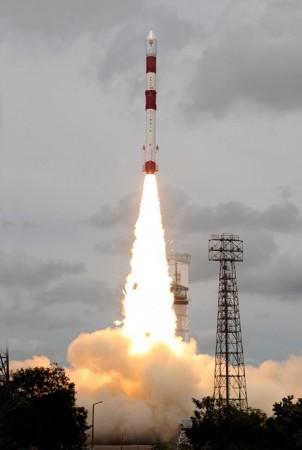 The Indian Space Research Organisation Wednesday launched an Indo-French tropical weather satellite called Megha Tropiques and three other small satellites.
A PSLV-C18 rocket carried the satellites from the Satish Dhawan Space Centre in Sriharikota, near Chennai.
"The PSLV-C18 has been a grand success. Very precisely, four satellites were injected in circular orbit," ISRO Chairman K. Radhakrishnan told news agencies.
Radhakrishnan said the Megha Tropiques launch marked the beginning of a new era of cooperation between India and France. "It's truly a global mission," he said.
The French space agency, Centre National d'Etudes Spatiales, described it as a "professional launch."
Apart from the Megha Tropiques, the rocket carried three small satellites - the 10.9-kg SRMSAT built by the students of SRM University in Chennai, the 3-kg remote sensing satellite called Jugnu from the Indian Institute of Technology-Kanpur (IIT-K) and the 28.7-kg VesselSat from LuxSpace of Luxembourg.