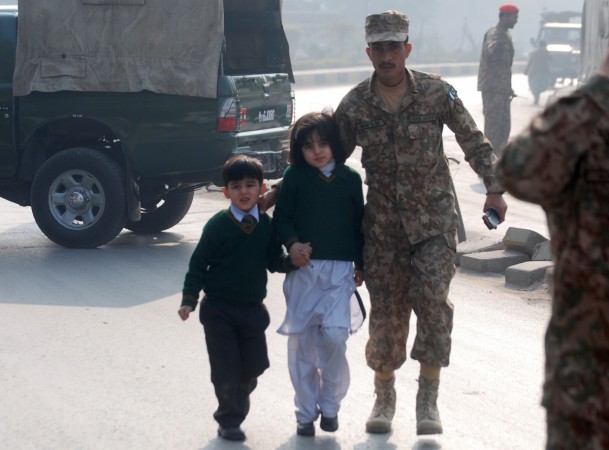 The horrendous attack on a Peshawar school by the Taliban militant group on Tuesday leaves us with much to think about. It was a black day for Pakistan when beastly Talibani fanatics went on a rampage, running from classroom to classroom, shooting every child in sight from a point-blank range.
That moment, when the giggles and laughter of innocent children turned into terrified shrieks and sobs, cast the darkest of shadows on humanity.
As soon as the news reached the other side of the border, people instantly came together to condemn the gruesome attack and showed solidarity and support for the people of Pakistan – putting all differences aside.
Prime Minister Narendra Modi spoke to his Pakistani counterpart Nawaz Sharif offering his "deepest condolences'. At the PM's behest, all schoolkids across India observed a 2-minute silence as a mark of solidarity towards their departed Pakistani counterparts.
On Twitter, #IndiawithPakistan became one of the top-trending hashtags, while 6 to 7 others related to the Peshawar attack -- the most gruesome assault that ever took place in the country's young history -- too trended on the micro-blogging website.
People from across India took to Twitter to register their angst over the ghastly act. Scores of Indians posted pictures of the attack and wrote moving messages grieving for their neighbour's loss.
Food for Thought
Does it take grief of this magnitude for India and Pakistan to unite? For India to show solidarity and support for the country it has always considered an enemy? Should it take blood, carnage and a brutal attack for the warring neighbours to come together as one?
"It's a dark day for humanity, all of humanity and I will stand by Pakistan and by our children, for they are fellow human beings not people of a rival nation," wrote Anusha Ravi, a TimesNow journalist in a Facebook post, reflecting the collective mood of Indians on a day that saw one of the most inhuman terrorist attacks in living memory.
Coming only days after a spurt in militant violence in Kashmir, including the deadly attack on an Army camp in Uri that left 11 security personnel dead, nothing stopped the people of India to express their thoughts and prayers when one of worst misfortune befell on the other side of the border.
The only question that remains is whether the revived amity and harmony between the two sibling nations will continue or will it take another atrocious attack of the likes we saw on Tuesday for the temporarily-awakened collective consciousness to sustain itself.
Here is a look at some of the best tweets of encouragement:
Cause we will not bow down to these cowards. Cause our children are our future so let us hashtag #IndiawithPakistan !! -- Tehseen Poonawalla

Whatever the differences,,, we are always with you #IndiawithPakistan --Palanivel Koothar

Share the pain of our Pakistani brothers & sisters grieving for children slaughtered by Taliban.Strength,solidarity,hope #IndiawithPakistan --Sagarika Ghose

#IndiawithPakistan dear brothers n sisters we r crying with u in this tragic moment! u all r in our prayers, especially those young martyrs! --Dr. Mugdha Singh

#INDIAWITHPAKISTAN because our destinies are intertwined, our liberation linked to peace, our shared humanity. Because EVERY LIFE is sacred. --Rucha Chitnis
We mourn with you #IndiawithPakistan #PeshawarAttack #PrayForPeshawar pic.twitter.com/M5ijJZ4t49

— Neeti Ghildiyal (@NeetiGhildiyal) December 17, 2014