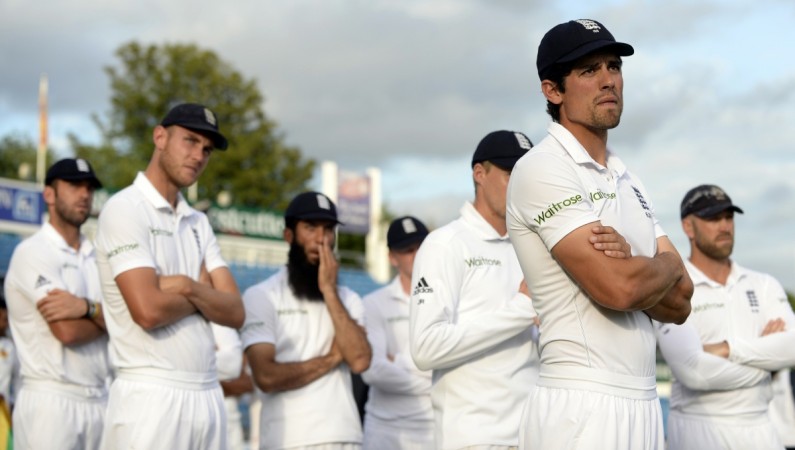 Captain Cook's ship should brace for more rough weather; Alastair Cook, English skipper, has been bombarded by criticism from all corners. The latest entrant in the Cook Criticism Club is Ravi Shastri. The former India all-rounder has joined the likes of Ian Chappell and Shane Warne in thinking that the English captain's poor form can be exploited to the hilt by the Indians in the upcoming five-Test series.
The India team should relish the difficult situation the English team find themselves in, Shastri said. Cook is under immense pressure due to a combination of poor form and further losses for his team.
The English captain, who has one of the finest records for any English batsman, has not registered a Test hundred for 24 innings. To make matters worse, his indifferent form comes in the midst of a 1-0 loss at home to Sri Lanka in what was a very competitive series. Shane Warne has been a vocal critic of Cook's style of skippering - the former Aussie leggie believes Cook is better off taking rest and quitting captaincy.
The visitors should "go for" Cook at the first opportunity to try and prevent from him gaining a foothold against a side against whom his average is 55.26, Shastri believes. "If you have the leader under pressure always go for him. You need to get stuck in. You have to make the game as tough as you can," Shastri said at the series launch. "As an India player they will want this debate to continue, " the former right handed-batsman and left arm spinner told EspnCricinfo.
He compared the present situation to 1986 when India beat England for the second time at home. The series began with elegant left-handed batsman David Gower skippering the English team in the first test at Lord's. However Gower's side crashed to defeat in that Test and he was sacked as skipper. "With David Gower, all we said was don't let him get runs in the first Test and let the pressure build. He lost the captaincy, India won the series," Shastri said.
In Shastri's words Cook "is not a natural captain". "Cook is mentally very tough. He'll break all records for England," he remarked. "The question is do you want a captain in Cook who is not playing freely or do you want Cook playing freely as a batsman?."
Furthermore Shastri cited the case of batting maestro Sachin Tendulkar who endured unhappy spells of captaincy. "That is what happened to Sachin Tendulkar. As captain he felt the pressure was getting to his batting and it was taken away."
There is an ongoing debate about whether Cook should continue as skipper or not. All these questions about his captaincy come not only in the face of the 1-0 loss to Sri Lanka but a horrifying 5-0 Ashes drubbing at the hands of arch-rivals Australia. Moreover, many thought he had a hand in Kevin Pietersen's sacking and was criticised for it.
The one thing Cook can take heart from is that he has a prolific record against India. His top score of 294 came against them in the last tour. He will be looking to add to his prolific record against India.