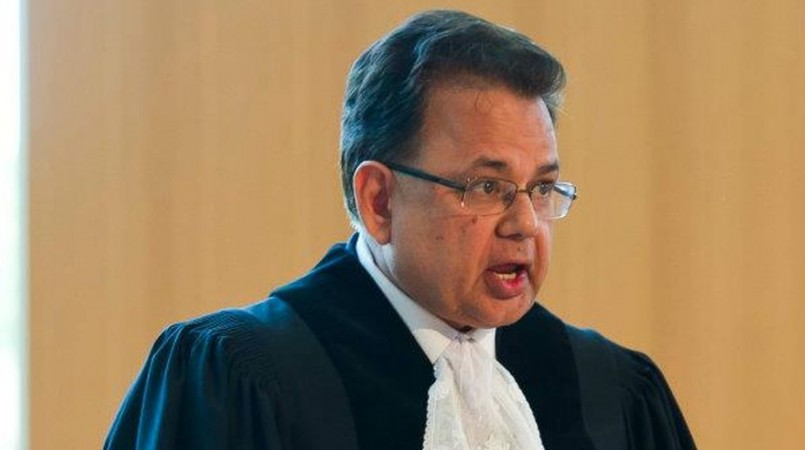 India's nominee Dalveer Bhandari was re-elected for the last seat of International Court of Justice judge on Monday as the United Kingdom withdrew its candidate, Christopher Greenwood, contesting for the same position.
The ICJ has a 15-judge bench in The Hague, out of which five are elected every three years for a nine-year term. The ICJ was established in 1945 to settle legal disputes submitted by countries, in accordance with international laws.
Bhandari received 183-193 votes in the United Nations General Assembly (UNGA) and secured all the 15 votes in the UN Security Council (UNSC) after separate and simultaneous polls were conducted at the UN headquarters in New York.
Britain congratulated Bhandari on Monday and said that it will continue to cooperate closely with India at the UN and internationally.
Bhandari, aged 70, had the support of almost two-thirds of the 193 UN members. However, Greenwood has already served a nine-year term in the ICJ and was trailing behind more than 50 votes in the UN General Assembly.

Bhandari's win comes amidst reports of Britain attempting to 'misuse' its UNSC membership by pushing for a joint conference, PTI reported. The agency quoted a source -- a UN insider -- as saying that India's former colonial ruler attempted to play "dirty politics" to grab the last judge's seat and that there was a sense of "uneasiness" among other members of the UNSC before the polls.
India's win at the ICJ polls means that there will not be a British judge at the UN's most powerful court for the first time in its history.
However, Britain's Permanent Representative to the United Nations, Matthew Rycroft, in a statement shortly before the polls said that the UK had decided to withdraw Sir Chris Greenwood as a candidate for re-election as a Judge of the International Court of Justice.
"The UK has concluded that it is wrong to continue to take up the valuable time of the Security Council and the UN General Assembly with further rounds of elections," he said.
Earlier reports state that the competition between the two candidates was very close.
"We are naturally disappointed, but it was a competitive field with six strong candidates," Rycroft said.
"If the UK could not win in this run-off, then we are pleased that it is a close friend like India that has done so instead. We will continue to cooperate closely with India, here in the United Nations and globally," Rycroft added.
He also said that the UK will continue to support ICJ's work "in line with our commitment to the importance of the rule of law in the UN system and in the international community more generally".
Wishes from prominent Indian leaders poured in for Bhandari on social media:
Congratulations to Justice Dalveer Bhandari on his re-election as a Judge of the ICJ. Huge efforts by Team - MEA. Syed Akbaruddin @AkbaruddinIndia our Permanent Representative in UN deserves a special mention.

— Sushma Swaraj (@SushmaSwaraj) November 21, 2017