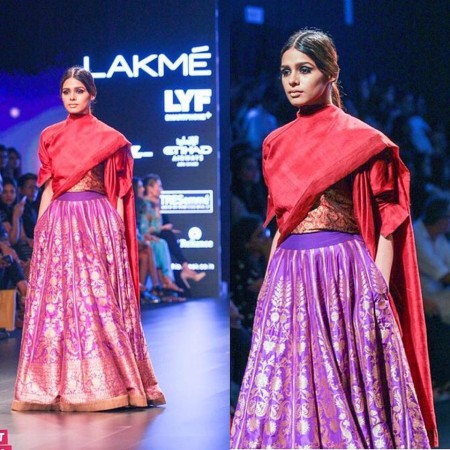 Pranati Rai Prakash, who was crowned the winner of "India's Next Top Model 2" on Sunday, is a small-towner (Patna) and takes immense pride in it. She has always wanted to be a model and is now a little closer to her dreams.
For the final round of "INTM 2," Pranati and two other contestants -- Jantee Hazarika and Subhamita Banerjee -- walked the ramp at the Lakme Fashion Week Winter/ Festive 2016. Her confidence and ability to follow rules made her the winner she is today.
Talking to Daily Mail Online, Pranati said since her dad was in the army, she got to move around the country quite a bit, but because she spent her formative years in a small town, fashion made her curious.
"One is not so familiar with fashion growing up in a small town, so naturally it makes you curious. Perhaps modelling would not become my life's love if I grew up with easy access to the job while growing up in a big city. Life in the metro gives you exposure, but small-towners learn not to take things for granted," she explained.
For some models, the step after winning a beauty pageant is Bollywood, but Pranati wants to concentrate on modelling for the first few years and wait for good assignments to come by. She looks up to Priyanka Chopra and acknowledges how the actress scaled the dizzying heights of success.
All this might look easy and a given, but Pranati had no clue how to get where she is today. "I never knew how to reach here. Neither did my parents, despite being wholly supportive of my dream. Of course, dad would always joke I look average," she quipped.
Before she participated in "INTM 2," Pranati was a Miss India 2015 finalist where she was one of the popular contestants and had won several titles — Miss Fashion Icon, Miss Talented and Miss Beautiful Legs.
"Miss India is very different in format. It is more about how you represent your state, how you talk, walk and conduct yourself," she added.
Check Pranati's photos below: