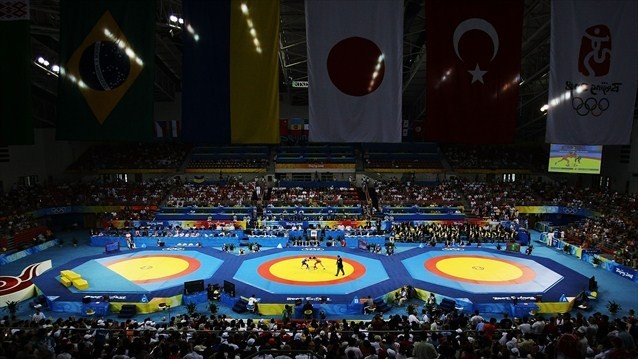 India's medal potentials Amit Kumar and Narsingh Pancham Yadav were knocked out of the competition at London Olympics on Friday, failing to resurrect the hopes of raising the country's medal tally.
Amit started off strongly in Men's freestyle 55kg category and advanced to quarter-finals after pinning down Iran's Hassan Sabzali Rahimi. However, the 19-year-old Indian grappler had to face Georgia's Vladimer Khinchegashvili.
After recording 1-3 victory against Indian wrestler, Georgian continued his winning streak as he advanced into the final bout, while letting Amit to take up challenges at repachage bout providing a scope for at least a bronze medal win.
However, Amit conceded 0-3 defeat to Radoslav Marinov Velikov of Bulgaria as the latter was fortunate enough to get the favour of the game- "clinch". If a set ends without a score, the referee asks one of the wrestlers to pick a box that contains a ball, and the colour of the ball determines who gets the advantage of attacking his/her opponent.
Velikov was lucky and quick to draw the advantage of 'clinch' and beat the young Indian wrestler in straight rounds as he secured the clinch in two successive rounds.
Meanwhile, Narsingh Pancham, 74kg, crashed out of the competition on Friday after first round defeat to Canada's Mattthew Judah Gentry.
Now, all focus has shifted to Yogeshwar Dutt, who will wrestle Bulgaria's Anatolie Ilarionovitch Guidea in the Men's freestyle 60kg class opening round on Saturday.
At the age of 29, Dutt has already got four golds to his credit. He bagged two gold medals in Men's wrestling events in 2003 and 2010 commonwealth Games, and two more gold in 2008 and 2012 Asian games. He had a near miss in entering semi-finals in the 2008 Beijing Olympics.