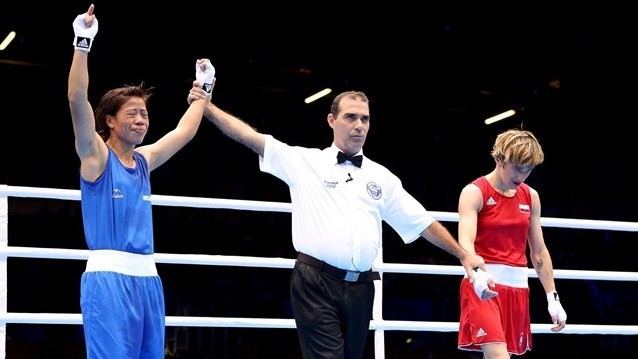 Five-time world champion Mary Kom refreshed India's hopes in winning another medal, after most of the country's athletes crashed out at the Olympic Games in London.
The 29-year-old Manipuri advanced a step towards winning at least a bronze, after beating four seed Pole Karolina Michalczuk 19-14 in a thrilling bout at the ExCel Arena on Sunday.
Adding to her credits, Kom was the only Indian woman who made to the 51kg boxing category at the 2012 Olympic Games.
India's Olympic debutant threw some sharp jabs on her taller opponent, suffocating the Polish who stood still for a few moments inside the ring. Kom maintained a winning edge over Michalczuk throughout the clash and flung hooks at the head of her upright opponent, roared on by a sizeable Indian contingent in the 10,000-capacity crowd.
"It is very special. I am crying because it is my twins' fifth birthdays. It is emotional because I cannot be with them to celebrate their birthdays, but I am here at an Olympics, and I am fighting and winning," said emotionally overwhelmed mother of two, after storming to the quarterfinals.
Kom also spoke about her dream and 12 years of efforts she undertook in a bid to clinch a berth to the 2012 Olympics. "Every athlete wants to go to an Olympic Games and for 12 years I have been waiting and waiting, asking when it (women's Boxing) will be included."
After knocking out her Polish rival on Monday Kom will meet Tunisia's Maroua Rahali inside the boxing ring for a medal. If Kom scores the round against Rahali, Kom could set up a repeat bout against Great Britain's Nicola Adams in the semi-finals. Adams begins her quest against Bulgaria's Stoyka Petrova on Monday.
Rahali has enough victories to her credit at the age of 24. She secured first place in International Women's Tournament in 2011. The same year she won Tunisian Women's National Championships first place in the 51kg division.
In 2010, Rahali won African Cup of Nations first place in 51kg category. In the same year, she secured top position in the International Women's Tournament.
However, Kom's experience and the fierce fights she puts up beckons a win for the Manipuri boxer against her Tunisian opponent.
Hockey team to return home empty handed:
All hopes that were pinned on the Indian men's hockey team ended after it lost to Korea on Sunday.
The team continued its losing streak in the Olympics and was highlighted as the only team in the tournament without a point, slumping to a fourth successive 4-1 defeat against the Republic of Korea.
The eight-time gold winning team will now battle for the lowest ever position in the games, and will fight at 11th or 12th position of Pool B.