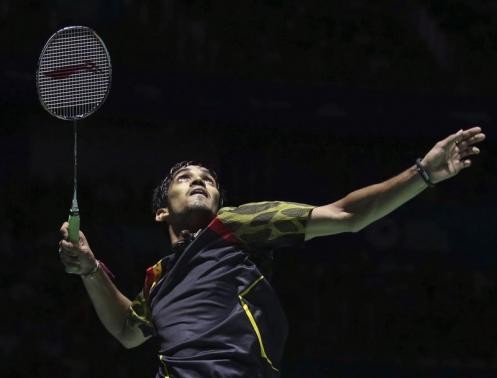 Parupalli Kashyap, H S Prannoy and Kidambi Srikanth are India's hope in the men's singles for the upcoming world badminton championships in Jakarta, Indonesia, which starts on 10 August. Among the trio, Srikanth, who has been seeded third in the competition, has a major chance of winning the title if he is consistent.
"I have a chance of winning a medal if I can play my best in every game. The draw... well you can't choose it and I should be prepared to play anyone," IANS quoted Srikanth as saying.
Kashyap and Prannoy are seeded 10th and 11th respectively. The competition is expected to be of utmost quality with the number of top class players in the tournament, which include China's Chen Long and Lin Dan along with Denmark's Jan O Jorgensen.
Hence, if Srikanth has to win his first world championship, the Swiss Open and the Indian Open championship, he will need to defeat some top players in the circuit.
"I had a very good start to this year and I am happy with the way it went. I only want to continue my good form and consistently keep winning. There is no specific reason for the early round losses. I just couldn't get the crucial points I wanted. I was doing some simple mistakes at crucial moments which I want to avoid," said Srikanth.
Srikanth may not have been impressive of late, but the lanky shuttler is positive with the form he is in at. Apart from Saina Nehwal in the women's singles, Kidambi Srikanth will have to bear the burden of expectations from Indian fans at the world championship.
Yet, he is not perturbed by such expectations. "Even though I did not do well in the last few tournaments, I am happy with my form and the way I am playing. There will be a lot of expectations from me. It is like now more people want me to win than before. So it is good to have expectations on us."
Despite Srikanth expected to excel in the tournament, take nothing away from Kashyap and Prannoy, who are both brilliant players. They have it in them to defeat some top players as witnessed in the recent past as well. They could as well ring in major surprises.