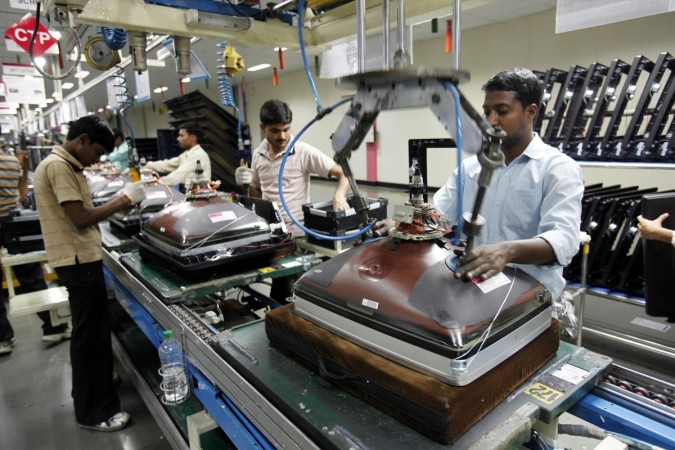 Factory/industrial output contracted for the third month in a row in January 2016, indicating a slow growth in the country.
The factory output data, popularly known the index of industrial production (IIP), for the month of January 2016 is 1.5 percent lower as compared to that of January 2015, said the Central Statistics Office (CSO) of the Ministry of Statistics and Programme Implementation.
IIP for the months of December 2015 and November 2015 too had declined to 1.2 (revised) and 3.4 percent, respectively, over the same corresponding months last year.
"Indian industrial production fell in January, corroborating the global manufacturing malaise apparent in February PMI releases for many economies," Bill Adams, senior international economist at PNC Bank International told International Business Times.
Of the three sectors which form the IIP, mining and electricity grew by 1.2 percent and 6.6 percent, respectively, while manufacturing, with a weightage of 75 percent, saw a slump by 2.8 percent year-over-year, pulling down the entire index. Ten out of the twenty-two industries in the manufacturing sector have shown a negative growth during the month of January 2016 as compared to the corresponding month of the previous year.
"Indian electricity output is a useful first indicator for economic activity outside of the industrial sector, and its strength shows that in India as in the United States, the service sector is doing far better than the industrial sector," said Adams.
Among the use-based classification of the Index, which primarily defines the potential the economy has in store, the key component of capital goods that can spur investment and employment saw the biggest decline by 20.8 percent. Basic and intermediate goods grew at the rate of 1.8 percent and 2.7 percent, tabulated the CSO data.
Consumer goods, however, remained at zero percent with no gain or loss, indicating that consumers are not as pepped to spend yet.
"In all likelihood, India will eke out another year of real GDP growth of around seven percent in 2016, but this will be despite a weak industrial sector," Adams added.
IIP is compiled using data received from 15 source agencies dealing with a range of things from sugar to fertilizer to salt to electricity within different ministries and departments of the Indian government.
Industrial production in India is averaged 6.40 percent from 1994 until 2016, reaching an all time high of 20 percent in November of 2006 and a record low of minus 7.20 percent in February of 2009.