India enters 2015 having already reached almost 99% of its full-year fiscal deficit target with three months yet to go.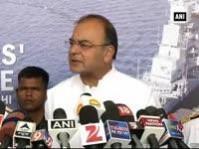 Against the projected shortfall of 5.31 lakh crore, the third largest Asian economy has already reached ╣5.25 lakh crore, or 98.9% of the estimated ceiling, on the back of depressed revenue realisation, according to data released by the Controller General of Accounts on Wednesday.
The NDA government has committed itself to limiting the fiscal deficit to 4.1% of the GDP, a record low in seven years, if achieved.
The government had initiated many moves that could see it bridge the gap, though by how much remains to be seen.
One of the routes chosen would see the government stake come down in many state-owned organisations, with disinvestment through the auction route expected to mop up almost ╣48,000 crore before March 2015.
Net tax revenue until November stood resolutely low at ╣4.13 lakh crore, or 42.3% of the estimated ╣9.77 lakh crore for the fiscal 2014/15.
The government's tax collection for the same period a year before was marginally higher at 44.8%.
Total revenue and non-debt capital for the eight months stood at ╣5.43 lakh crore or 43.4% of the target.
For the same period a year ago, receipts stood at 45.6% of expectations.
The government's plan expenditure for the eight months stood at ╣2.93 lakh crore or 51.1% and non-Plan expenditure at ╣7.8 lakh crore or 64%.
The two previous fiscal years registered fiscal deficit at 4.5% for 2013/14 and 4.9% for 2012/13.
The government has firmed up plans to reduce fiscal deficit to as low as 3% of the GDP by 2016/17.
Non-plan spending by the government will see cuts of up to 10% in an attempt to rein in the deficit. Healthcare, already a poor relative to the GDP, would see a cut by almost a fifth.