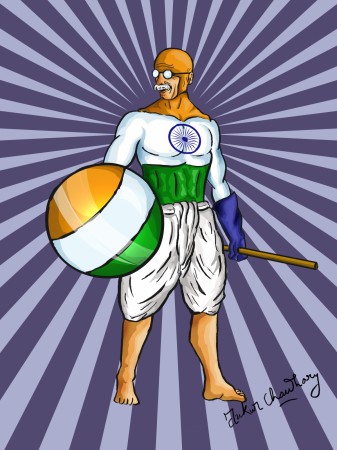 Mahatma Gandhi has been depicted as the father of our nation, the crusader of non-violence, the pre-eminent leader of the Indian independence movement and so on. Today, on his 145th birth anniversary, New Delhi-based artist Ankur Chaudhary has honoured him with one more title - India's First Superhero.
In a series of five paintings titled "Gandhiverse" posted on Touch Talent, Gandhiji has been depicted in the style of various Avengers, including Spider-Man, Iron Man, Captain America, Thor and Hulk.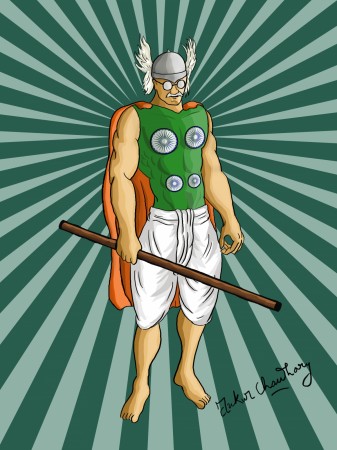 "I always used to think of our freedom fighters as superheroes. So when I was reading these comic books, I had this idea. Why not portray 'the strongest man' of our nation as our superhero?" Chaudhary explains the thought behind his series to International Business Times, India Edition.
The first portrait Chaudhary created for the series was that of Mahatma Gandhi as Father India, a variation of Captain America, world's first superhero. Chaudhary's logic behind the Gandhiverse series is that for every child, the first superhero is his or her father.
"The basic idea behind Gandhiverse is that Gandhiji is the father of our nation and I wanted to do something unique for our superhero's birthday."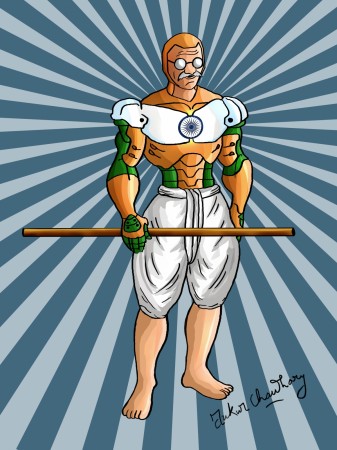 The series, which he completed in no more than 15 hours, was first conceptualised and sketched using a pencil, after which it was realised on Photoshop. The other pictures in Gandhiverse have been titled "Iron Mohan" (Iron Man), "Spider-Mohan" (Spider-Man), "Thor - Hammer of the Court" (Thor) and "Mahahulkma" Gandhi (Hulk).
Chaudhary, who has no academic background in arts, claims to have acquired his knowledge from YouTube videos.
"I have had an artistic inclination from childhood years and took to painting as soon as I was done with my 12th board exams. However, it wasn't until two months ago that I took to the digital world."
Chaudhary, who believes that art "is an outlet to the exuberant energy of youthfulness that dwells within," has always used his passion for it to mix the mundane of the world outside with his own thoughts and perceptions.
This very nature of his art can be seen not only in his Gandhiverse series, but also the Navrathri 2014 series, in which goddess Durga is depicted as a cute little girl who takes delight in playing with her wide range of vahans, from the donkey to the lion.
Chaudhary, who joined Touch Talent, the online community that connects creative individuals, just 10 days back, already has a large number of fans talking appreciatively of his work and looking forward to his future projects, with users like Kshitij Bhardwaj and Mohd Waseem posting "Salute you!" and "Hats Off!" after viewing Chaudhary's art work.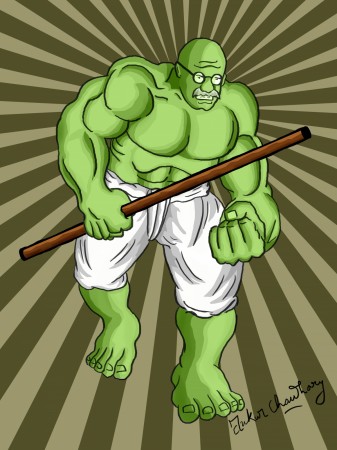 Chaudhary is currently working on a new set of series based on "Ramayana", and although he did not divulge any details on how it would be, he did guarantee that "kids would love it".