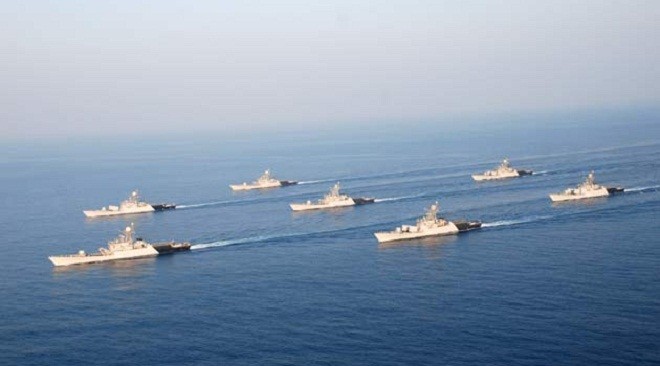 India's first and indigenous nuclear powered submarine Indian Naval Ship (INS) Arihant will be undergoing sea trials, after which it will be inducted in the Indian Navy.
"The Arihant is slated to go to the sea within a month for completion of sea trials as the harbour trials are almost complete. Firing of the ballistic missile will be a part of the sea trial," The Deccan Herald quoted Rear Admiral L V S Babu, Assistant Chief of Naval Staff (Submarine).
INS Arihant, which means 'slayer of the enemy' is designed and built as part of Indian Navy's Advanced Technology Vessel (ATV) project.
The nuclear-powered ballistic missile submarine (SSBN) was showcased for the first time in July 2009 in presence of Prime Minister Manmohan Singh in Visakhapatnam in Andhra Pradesh. The submarine then went through harbour trials for three and half years until August 2013.
INS Arihant has been fitted with a mobile nuclear reactor, which powers the submarine using 80 MW pressurised light-water reactor with enriched uranium fuel. "This is the first time we have achieved criticality of a mobile reactor in India. Everything has to be done in a methodical, careful, sequential manner. INS Arihant is in the terminal phase of the HATS (harbour-acceptance trials) now," said Rear Admiral Babu, according to The Times of India.
Indian Navy hopes to induct the 6000 tonne nuclear powered submarine by the end of this year if the sea trials to be conducted next month are successful. "Sea trial will be an enhanced mode testing of all parameters. The missile will be fired during the trials. We have developed the capability to include the ballistic missile on-board Arihant, but will continue to improve the power and punch of the submarine," Rear Admiral Babu said.
INS Arihant which is fitted with 750 kilometres range K-15 missiles is expected to boost India's security in the Indian Ocean once it becomes operational. A mock version of INS Arihant will be presented at the Republic Parade to be held in New Delhi on 26 January as part of Indian Navy's accomplishments.