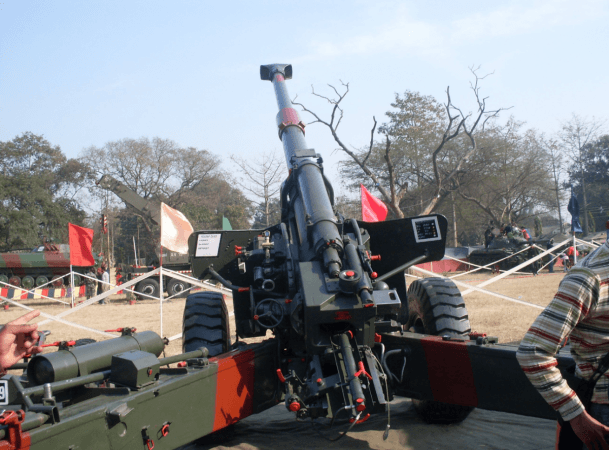 The wait for India's first home-made Bofors gun, Dhanush, could finally be over. The trial for the indigenous version of Swedish Bofors is in the final stage with only general staff quality requirements (GSQR) evaluation is pending.
Post the final evaluation process, Dhanush would be inducted in the Indian Army in February. Dhanush is expected to give teeth to Indian artillery units whose capabilities are already boosted by the induction of US' M-777 and the K-9 Vajra guns from Korea.
Dhanush went through rigorous trails which it was made fire around 5,000 shells. The trails even witnessed delays due to incidents of malfunctioning and a CBI inquiry.
After missed deadlines, Dhanush is set for the final appraisal process GSQR which is likely to be completed by January.
According to The Times of India, an induction ceremony has been planned at School of Artillery in Deolali near Nashik in February, which is likely to be attended by Prime Minister Narendra Modi.
Dhanush has been manufactured at Gun Carriage Factory (GCF) in Jabalpur, which is a unit of the Ordnance Factory Board (OFB). Interestingly, Dhanush is also the first ever heavy artillery gun being manufactured at GCF which so far has been only manufacturing light artillery systems.
The project kicked off in 2010 and took around eight years to be completed. The ceremony will witness the induction of six guns and additional 12 guns would be inducted by December 2019.
The Indian Army is looking to overhaul is artillery systems in recent times. Next year, it is likely to receive 48 guns of 155x45 mm calibre in total which includes 18 Dhanush and 30 Sarang guns.
Dhanush is an upgraded version of Army's 130mm Bofors gun. However, Sarang will be manufactured at the Ordnance Factory in Kanpur.
There were many question marks on the capabilities of the Swedish Bofors when a scam was unearthed during the mid-1980s. But the Bofors guns turned out to be one of the vital resources of the Indian Army and helped it to pushed the Pakistani intruders out of the Indian soil during the Kargil war.