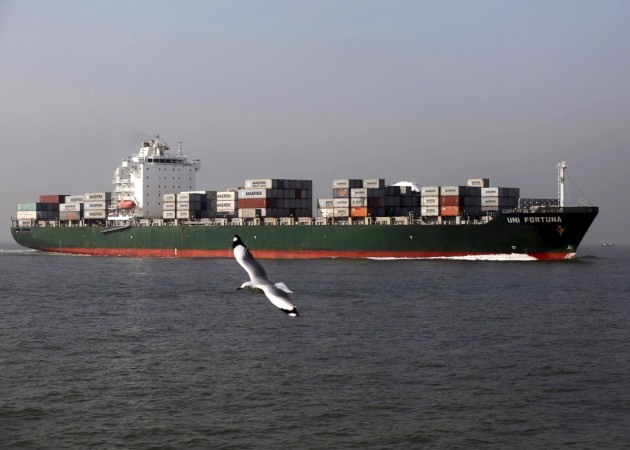 India's merchandise trade with the rest of the world last month reveals interesting statistics. While exports rose 19.77 percent in April, the eight straight month, imports zoomed 49 percent due to two main commodities, gold and crude oil, leaving a huge deficit. Gold imports were up 211 percent on year-on-year basis while crude oil imports jumped 30 percent, YoY.
Provisional data released by the union commerce and trade ministry on Monday showed that exports stood at $24.64 billion, imports grew sharply to $37.88 billion, resulting in a deficit of $13.24 billion, a sharp rise from $4.84 billion in April 2016 and $10.4 billion in March 2017.
Read: India's vital statistics at a glance since note ban
"The growth in exports is positive for all major economies, USA (4.74%), EU (0.16%), Japan (13.30%) except for China (-1.56%) for February 2017 over the corresponding period of previous year as per latest WTO statistics," the ministry said in a statement.
Gold imports at $3.85 billion more than doubled from $1.23 billion in April last year but lower from $4.17 billion in March this year.
Export of engineering goods also showed an uptick for yet another month, rising 28 percent YoY to $6.1 billion. Gems and jewellery exports grew 15 percent to $3.97 billion.
India had ended financial year 2016-17 on a modest note; exports rose 4.71 percent to $274.64 billion from $262.29 billion in the preceding fiscal while imports dropped 0.17 percent to $380.36 billion from $381 billion in 2015-16, leaving a trade deficit of $105.7 billion.
The data could have a positive impact on stock markets tomorrow (Tuesday, May 16) since the statistics were released after markets closed for the day. The BSE Sensex ended 134 points higher at 30,322 while the NSE Nifty closed at 9,445, up 45 points.
Foreign portfolio investors (FPIs) were net buyers of Indian equities worth Rs 235 crore on Monday, according to provisional data released by the National Stock Exchange.