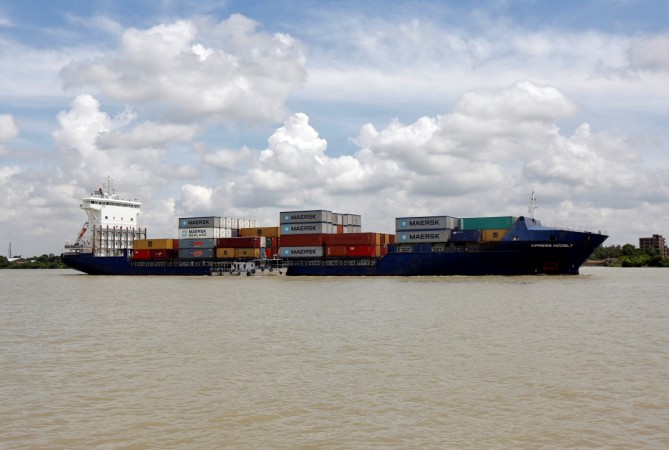 India posted an improvement in external trade for August, with decline in exports narrowing to less than a per cent while imports shrank 14 per cent, enabling the world's fastest-growing economy to narrow trade deficit by 38 per cent. Exports stood at $21.51 billion last month, down 0.30 per cent from $21.58 billion in August 2015, while imports fell to $29.19 billion from $33.98 billion last August, led mainly by gold and oil.
In comparison, July merchandise exports had contracted 6.84 per cent on a year-on-year basis to $21.69 billion.
Exports account for about 20 per cent of India's gross domestic product.
Gold imports fell for the seventh straight month, to $1.11 billion in August 2016, a sharp decline of 77.45 per cent from $4.95 billion in August 2015, according to trade data released by the government of India on Thursday.
Oil imports were down 8.4 per cent to $6.74 billion last month from $7.37 billion in August 2015.
Trade deficit
The trade deficit for August 2016 contracted 38 per cent to $7.67 billion from $12.39 billion in August 2015, while the cumulative deficit for the April-August period stood at $34.66 billion, down 40.6 per cent from $58.38 billion during the corresponding period last year.
Export of engineering goods rose 4.2 per cent to $5 billion in August 2016 from $4.80 billion last August.
Gems and jewellery segment exports grew 7.58 per cent to $3.60 billion in comparison to $3.35 billion in the corresponding period last year.
Top export items for India include engineering goods, gems and jewellery, petroleum products and textiles.
Services trade
India's services exports declined 4.11 per cent in July 2016 to $12.77 billion, while imports fell 11.68 per cent to $7.40 billion, resulting in a surplus of $5.37 billion. The cumulative surplus for the April-July period was $21.56 billion, down from $22.37 billion in the corresponding period last financial year, according to Reserve Bank of India data compiled and released along with merchandise data.
The external trade details for August were released by the government on Thursday after stock market trading hours. The BSE Sensex closed 40 points higher at 28,412, while the NSE Nifty gained 16 points to end at 8,742.