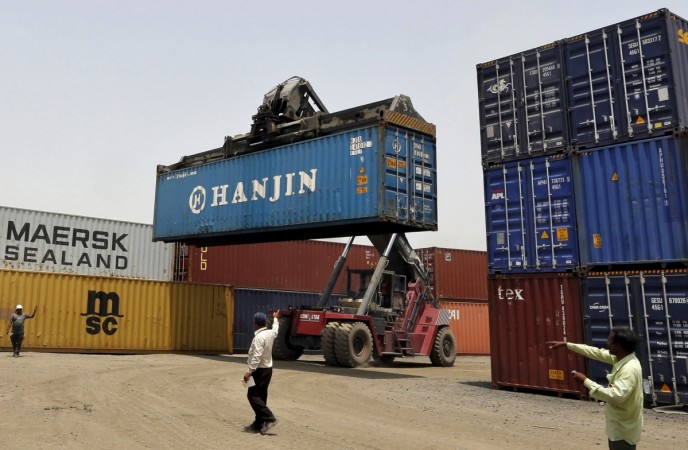 India's goods exports stood at $20.7 billion in February 2016, a 5.6 percent fall from $21.9 billion in the same month a year ago.
Imports, on the other hand, stood at $27.2 billion, a 5.03 percent lower over the $28.7 billion registered on a Year-over-Year (Y-O-Y) basis, according the government data released by ministry of commerce and industries.
The trade deficit during the month narrowed to $6.5 billion.
With a slowing global demand, the exports have witnessed a falling rally over 15 continuous months. However the rate of deceleration of 5.6 percent was much slower than the 13.6 registered over last month, Jan 2016, reported Business Standard. It said experts believed that, "the small fall in February was no indication of any revival in exports, not before last quarter of 2016."
"The trend of falling exports is in tandem with other major world economies," said a statement from the ministry. It added that the growth in exports have fallen for the U.S., EU and China to 10.35, 7.62 and 1.67 percent, respectively, for December 2015 over the corresponding period previous year, according to WTO statistics.
Exports in non-petroleum products in Feb 2016 are valued at $18.9 billion, a 2.69 percent fall against $19.4 billion in Feb2015. In the same time frame, imports fell primarily on account of lower import bill for crude oil and non-oil products such as the gold and steel.
The oil import bill of $4.7 billion was 21.92 percent lower than oil imports valued at $6.1 billion in the corresponding period last year. Non-oil imports fell by 0.47 percent, said the ministry's statement.
Cumulative values
For the period April-February 2015-16, the cumulative value of export stood at $23.8 billion as against $28.6 billion, registering a negative growth of 16.73 percent, said the statement.
Imports in the same 10-month period stood short by 14.74 percent at 35.1 billion against 41.2 billion.
The Business Line reported that the total exports in this fiscal year of 2015-16 would be short of last year's $310 billion as April to Feb export figures have indicated. Two months short of a year, it still stood at $238 billion. It added that the declining trend is seen persisting over the last two years, since the exports figure had seen an all time high of $314 billion in 2013.