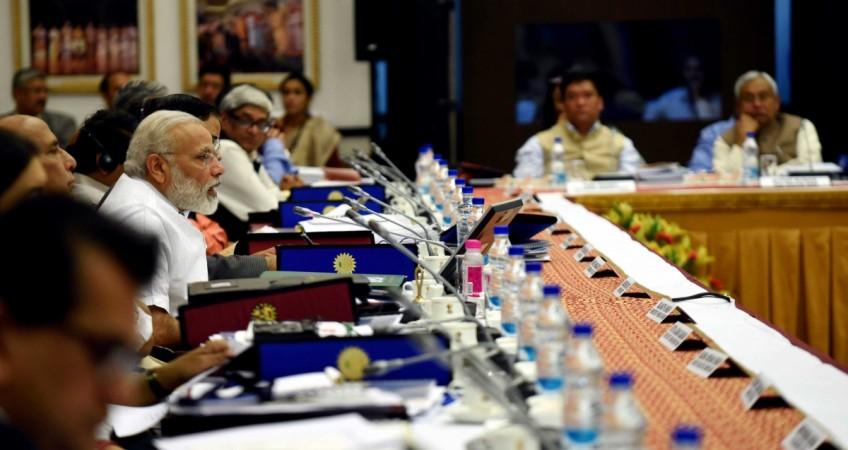 Currently the fastest-growing economy of the world, India's GDP size is poised to triple from the $2.11 trillion level (2015-16) to $7.25 trillion by 2030. The optimism stems from a presumption of high growth levels India is expected to experience in the coming years, according to the government's think-tank, NITI Aayog.
"Our base GDP is large. If we grow at an 8 per cent average rate for the next 15 years, our GDP will be Rs 469 lakh crore by 2030 (around USD 7.25 trillion)," Niti Aayog vice chairman Arvind Panagariya told the media after a meeting of state chief ministers with Prime Minister Narendra Modi and senior NITI Aayog members on Sunday, April 23.
Panagariya was briefing reporters about the think-tank's presentation that spoke of a 15-year vision, seven-year strategy and three-year action plan that envisaged of a "New India" in which access to sanitation, full literacy and a wide network of rail and road network would be the key features.
The implementation of the Goods and Services Tax (GST) from July 1 is also expected to boost India's growth prospects significantly, according to experts.
Modi is also said to have asked the states to explore the possibility of two significant aspects in the larger interests of the country.
"These were the suggestions made by the prime minister. One was simultaneous elections and other was financial year. We are a very large country. States also matter. They need to give their inputs," NITI Aayog CEO Amitabh Kant said while briefing the media.
Last July, the think-tank had supported the government's move to switch over from the current April-March financial year to January-December for which it had appointed a panel early that month under the helm of for chief economic adviser Shankar Acharya. The panel was supported to submit its recommendations by December 2016.
Industry chambers such as Assocham had expressed its concerns about the change in financial year, citing accounting and other problems.
"The move to change the fiscal year is akin to a situation where the government in its own wisdom decides to change the Indian driving system from right hand driving to the left hand without realising that it would require changing the entire road and street infrastructure along with changes in the design of the automobiles," the Assocham had said.