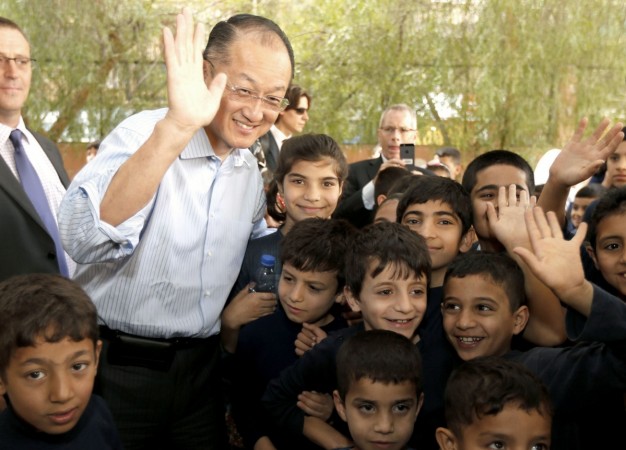 The World Bank has forecast India's economic growth at 5.5 percent in the fiscal year 2014-15, accelerating to 6.3 percent in 2015-16 and 6.6 percent in 2016-17, even as it projects a year of disappointing growth for developing countries.
In its Global Economic Prospects (GEP) report, the World Bank said that GDP growth in South Asia slowed to an estimated 4.7 percent in market price terms in calendar year 2013 (2.6 percentage points below average growth in 2003-12), reflecting subdued manufacturing activity and a sharp slowing of investment growth in India.
South Asia's growth is estimated at 5.3 percent in 2014, rising to 5.9 percent in 2015 and 6.3 percent in 2016 on firming global growth and a modest pickup in industrial activity. The Bank said that the acceleration is localized in India, supported by a gradual pickup of domestic investment and rising global demand. The forecasts also assume that reforms are undertaken to ease supply-side constraints and to improve labor productivity, fiscal consolidation continues, and a credible monetary policy stance is maintained.
Pakistan's economic growth is estimated to have remained generally stable despite fiscal tightening, but remains significantly below the regional average due to energy supply bottlenecks and security uncertainties. China is expected to grow by 7.6 percent this year, though it will depend on the success of rebalancing efforts, before slowing down to 7.4 percent by 2016.
The World Bank has forcast third straight year of sub 5 percent growth for the developing countries, citing several reasons, including political instability in many economies, slow progress on structural reform and crisis in Ukraine. The growth rate estimated this year is 4.8 percent, down from its January estimate of 5.3 percent but it is expected to pick up in 2015 with 5.4 percent growth and 5.5 percent in 2016.
"Growth rates in the developing world remain far too modest to create the kind of jobs we need to improve the lives of the poorest 40 percent," said World Bank Group President Jim Yong Kim. "Clearly, countries need to move faster and invest more in domestic structural reforms to get broad-based economic growth to levels needed to end extreme poverty in our generation."
East Asia and Pacific region expect a fall in growth from 7.2 percent in 2013 to about 7.0 percent by 2016. Regional growth (excluding China) is projected to firm from around 5.0 percent this year to 5.5 percent by 2016. The developing countries of Europe and Central Asia region are expected to get back on track with 2.4 percent growth in 2014 projected to touch 3.7 percent in 2015 and 4.0 percent in 2016. Russia is expected to grow from 0.5 percent in 2014 to 1.5 percent and 2.2 percent in 2015 and 2016, respectively.
According to World Bank's report, the Latin America and the Caribbean region may generate a modest 1.9 percent increase in regional GDP in 2014, with growth accelerating to 2.9 percent in 2015 and 3.5 percent in 2016. Growth in the developing countries of the Middle East and North Africa region is expected to pick up gradually to 1.9 percent in 2014 (0.1 percent in 2013) and 3.6 percent in 2015 and 3.5 percent in 2016.
Sub-Saharan Africa witnessed a GDP growth of 4.7 percent in 2013, up from previous year's 3.7 percent, despite 1.9 percent growth in South Africa. The region (excluding South Africa) saw 6.0 percent GDP growth in 2013. It is expected to slow down to 4.7 percent in 2014, before rising moderately to 5.1 percent in each of 2015 and 2016.
Economies in high-income countries are expected to grow by 1.9 percent in 2014, accelerating to 2.4 percent in 2015 and 2.5 percent in 2016. Growth in the Euro Area is estimated to grow by 1.1 percent this year, while the United States is expected to see 2.1 percent growth this year, down from previous forecast of 2.8 percent.
The global economy is expected to pick up speed as the year progresses and is projected to expand by 2.8 percent this year, strengthening to 3.4 percent in 2015 and 3.5 percent in 2016, with high-income economies expected to contribute about half of global growth in 2015 and 2016, compared with less than 40 percent in 2013, according to the report by World Bank.
"The financial health of economies has improved. With the exception of China and Russia, stock markets have done well in emerging economies, notably, India and Indonesia. But we are not totally out of the woods yet. A gradual tightening of fiscal policy and structural reforms are desirable to restore fiscal space depleted by the 2008 financial crisis," said Kaushik Basu, Senior Vice President and Chief Economist at the World Bank.
The report of the Bank highlighted the deteriorating national budgets of developing countries since 2007 and expressed the need to tighten fiscal policy and bring structural reform for rapid income growth.
"Spending more wisely rather than spending more will be key. Bottlenecks in energy and infrastructure, labor markets and business climate in many large middle-income countries are holding back GDP and productivity growth. Subsidy reform is one potential avenue for generating the money to raise the quality of public investments in human capital and physical infrastructure," said Andrew Burns, Lead Author of the report.