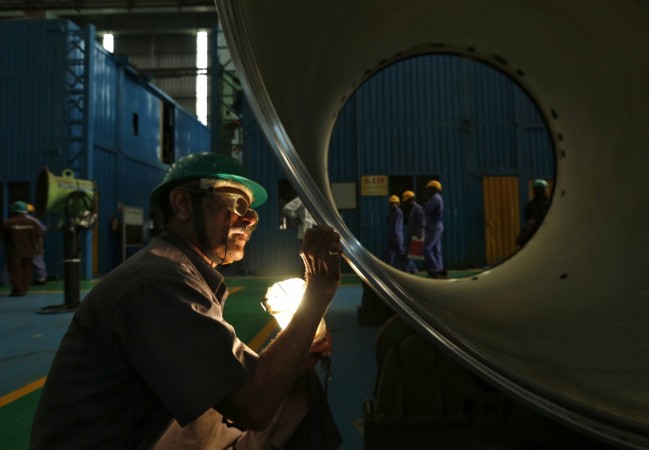 India's manufacturing PMI (Purchasing Managers' Index) slowed down to a four month low in April to 50.50 from 52.4 in March 2016 as reflected in Nikkei India Manufacturing Business Activity Index. A slowdown in the rate of manufacturing growth reflects that orders from domestic industries weakened, according to a statement.
The monthly survey reported that the manufacturing PMI stood just above 50, albeit still indicating an expansion in growth. A reading below 50 means contraction.
Given an eight-month pick up in March factory output, expectations were high on new orders for the month of April, which fell to the brink number of 50.1. Foreign orders too remained subdued moderating to 50.9 in April from 51.3 in the last month.
Pollyanna De Lima, economist at Markit and author of the report, said the slowdown in output expansion was in some ways equalising the robust increase in the growth March witnessed.
Continued expansion in India's factory output in April is, however, hinged to the orders already in pipeline; if not for the new ones. Therefore, firms continued to use its existing inventories to meet whatever incoming demands as against producing new finished goods inventories.
Also, the input cost of chemicals, metals, paper and food had risen, pushing the input price index to an 11 month high of 54.0 in April. However, the output price index fell to 51.8 from 52 in March. A comparison between both indicates that firms raised prices in response to higher costs but at a slower pace than in March, said the report.
"A softer overall increase in output prices meanwhile suggests a strongly competitive environment, as cost inflation in fact accelerated to the fastest since May 2015," said Pollyanna De Lima.
The report added that overall, after a strong rebound in the first quarter of 2016 (January to March), manufacturing activity seems to have lost momentum into the second quarter.