A new online game called Angry Brides highlights the illegal practice of dowry prevalent across South Asian countries including India.
The game has been created by the online marriage bureau Shaadi.com and is inspired by the immensely creative Angry Birds game. The players are encouraged to attack prospective grooms greedy for dowry with an assortment of weapons including brick-red stilettoes, frying pans, broomsticks, tomatoes and loafers.
Three prospective grooms - a pilot, an engineer and a doctor - dodge the attacks while demanding dowries starting at 1.5 million rupees. Every time the player hits a groom, his money is deducted and deposited in the player's anti-dowry fund.
The game is free to play on Facebook and has garnered about 2,70,000 fans already on the leading social networking website. Besides, it has earned 2,72,000 Facebook likes as a testimony to its escalating popularity.
"Shaadi.com has always believed that marriage is an institution of love, where there is a place for togetherness, mutual understanding, family values and emotional support but not for dowry!" said the leading matchmaker portal addressing the media.
Paying and accepting dowry has been a traditional practice for ages. The bride's parents gifting money, clothes, jewellery and cars to the groom's family is still in vogue.
The demand for dowry persists even after the conclusion of wedding ceremonies, and the bride may be severely tortured or even murdered if the demands are not met.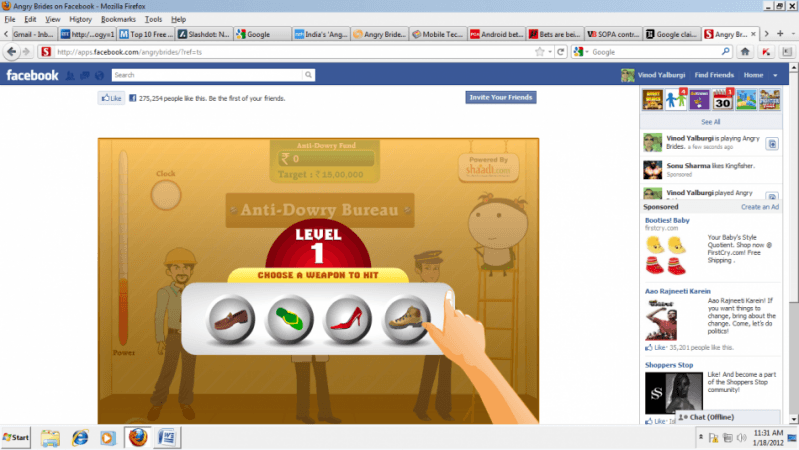 The social stigma attached to dowry aside, Angry Brides is a fun game to kill your spare time and also support the anti-dowry campaign. Level 1 of the game gives you access to the most dispensable weapons - all kinds of shoes and slippers.
As you move higher up the levels, you get access to bigger and better weapons ranging from cookers, frying pans and so on. The player is allowed to publish the amount won after each level on Facebook and Twitter. It could be the key to your new hall of fame and boast about your achievements among your friends and colleagues.
The game can be downloaded at apps.facebook.com/angrybrides.
Must Read:
Uncharted 3 Secures 12 Nominations at Fifteenth Annual AIAS Awards
Modern Warfare 3, FIFA 12 and Battlefield 3 Top List of Best-Selling Games in 2011