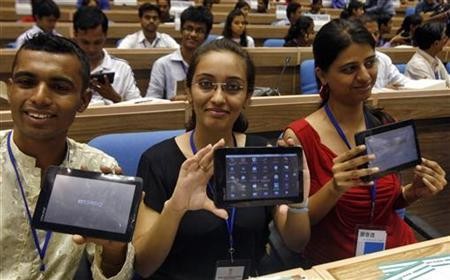 India will showcase the country's low-cost Android-based tablet Aakash at the United Nations on November 28.
Aakash tablet, which is manufactured by Canada-based DataWind, will be highlighted at the UN headquarters in the presence of the UN Secretary General Ban Ki-moon. The CEO of DataWind Suneet Singh Tuli will introduce the tablet at the event as "most competitively priced" tablet computer from the country India.
India's mission to showcase its low cost tablet at the UN will be witnessed by the people from the media as well as representatives from other country, reported Press Trust of India.
Akash tablet was developed by the Indian government with the purpose of linking the country's 25,000 colleges and 400 universities in an e-learning programme. The device, which is sold at a subsidized price for the Indian student community, features a 7-inch touch screen and runs on ARM 11 processor. The tablet supports various data documents like DOC, DOCX, PPT, PPTX, XLS, XLSX, ODT, ODP and PDF. It was first debuted in the country on 5 October 2011.
The tablet got the latest recognition at a time when the second version of Aakash is about to be released in the country. The initial version of the tablet was caught in controversy when it was rejected on the grounds of poor performance by IIT Rajasthan.
The successor of Aakash one will be launched in the country on November 11, National Education Day. The new version of the tablet will feature capacitive screen and a Ghz processor.