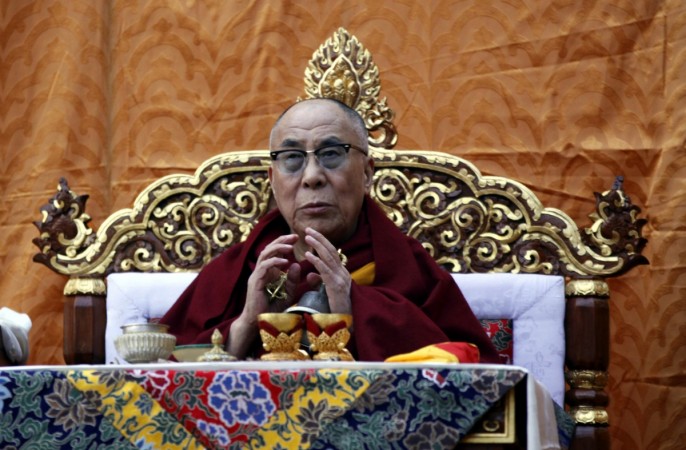 Even as Tibetans have been seeking independence and political separation from China, for a while now, often organising marches and rallies and even immolating themselves, the 14th Dalai Lama on Thursday, November 23, said that now Tibet intends to stay with China.
Speaking at an event organised by the Indian Chamber of Commerce on the "Revival of Ancient Knowledge" in Kolkata, he said that Tibet doesn't intend to dwell on the past and wants a brighter future. He explained that all Tibet wants now is more development and better facilities.
"Past is past, we have to look towards future. Since 1974 we are not seeking independence. Tibetans also want modernised Tibet. We need more material development. For that, remaining with China is in our interest, provided they respect Tibet's unique culture and heritage," Dalai Lama said, according to the Indian Express.
"Eventually we should imagine the world without armament. In my lifetime, this will not be achieved. But the 21st-century generation should keep this in mind... eventually this world should be demilitarised."
He also said that Tibet has a different culture and script when compared to China and like China loves its culture and traditions, Tibet loves its traditions. Dalai Lama also spoke about how the Tibetan plateau is ecologically important to the world and said that it has a huge impact on the environment.
"From Yangtze to Sindhu (Indus) rivers, major rivers ... come from Tibet. Billions of lives are involved. Taking care of the Tibetan Plateau is not only good for Tibet but for billions of people," he added.
Speaking of India and China's relations and the frequent rows between the two nations, Dalai Lama explained that these are two different countries with different opinions on things and hence quarrels are bound to crop up. However, the two nations should sort things out amicably through dialogue.
"India and China should eventually find respect for 'Hindi-Chini bhai bhai'. China needs India, India needs China and they have to live side-by-side. There is no other way except to live peacefully and help each other," he explained.
Dalai Lama also added a quirky twist to the interaction and said that Indians are lazier than the Chinese, but as a country, it is "most stable" and a "living example" of people of diverse traditions and ideas can live together.
"Compared to the Chinese, I think, Indian people are lazy. May be it is due to the climate. But India is most stable. In the world stage, India can play a role. India has a tradition of living together. (It is) a living example of different traditions being carried together. I can proudly state the same about Tibetan culture."