Model-turned-actress Lisa Ray is all set to tie knot with fiancé Jason Jehni in a traditional Indian wedding at Nappa Valley, California, on October 20.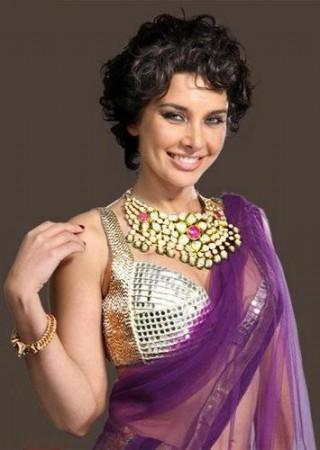 The grand wedding will be held in the U.S. with a dash of Indian style and a wedding reception will be held in India as Lisa has immense affection and liking for rich Indian culture.
"It will be a typical Indian style wedding," Lisa confirmed in a recent interview with PTI. "My fiance and I have planned my reception in India for my friends here though we haven't decided the venue yet."
From being the daughter of a Hindu Bengali father to her debut modeling and acting assignments in Bollywood, the 40-year-old Canadian-born is deeply connected to the Indian soil.
The actress was in fact in India recently for finalizing the wedding arrangements, shopping and to launch Swiss watch brand Rado's avant-grade collection.
"I am shopping a lot in India," She said, mentioning that all her wedding outfits will be from India. "In my sangeet and mehendi, I will be wearing Indian dresses."
The task of designing the wedding gown has also been given to a Goa-based famous Indian designer Wendell Rodricks.
"I was in Goa few days ago for my fitting session with Wendell. He is a dear friend of mine. He told me that he will use some Indian embellishments in it," she said.
Well, it's not only the "Water" star who is fond of India, even her American fiancé loves to learn about Indian cinema, culture and most importantly loves typical Indian food.
"I have been feeding him about Indian culture and films. He loves Indian food. He has watched many Hindi films and the latest one on his list is 'Dev D', Lisa said, adding that now she is planning me make him watch Vidya Balan's "The Dirth Picture."
Lisa successfully battled a rare Cancer of plasma cells for three years. Now that she is cancer-free, she is all set to start the second chapter of her life and make a comeback in films.
"I am enjoying this chapter of my life. I have signed a couple of Bollywood films with young directors. Indian cinema is going through an interesting period. I will also be producing two films and hosting Top Chef Canada," she said.
Ray announced her engagement to long-time boyfriend Jason in February this year. Jason is the vice president of Scotia Bank Group.
"Just returned from the glorious Napa Valley - the gourmand's and wine-lovers' paradise- with a DELIGHTFUL announcement. Stay tuned..." she had announced on Twitter in February.
Later adding, "Delicious update: ENGAGED to the love of my life. Jason Dehni proposed in Napa. #happiestdayever (sic)," as she announced this good news to the whole world."
The actress of Deepa Mehta's Oscar nominated film, Lisa made her Bollywood debut with "Kasoor" in 2001.