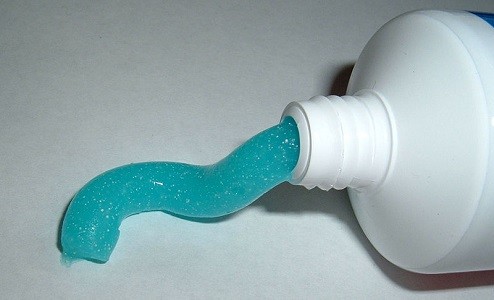 Toothpastes in India, it turns out, are more harmful than perceived. Triclosan, an active chemical ingredient in a majority of the toothpastes in India, has been found present beyond the permissible limit of 3,000 parts per million (pap) in toothpastes and even in some soaps by Delhi-based NGO Toxics Link.
This chemical can lead to serious diseases such as cancer, liver problems and even depression.
The NGO earlier collected 11 samples each of the toothpastes and soaps from various Delhi markets and sent them to Sriram Institute for Industrial Research.
After the investigations, it was revealed that at least four toothpaste samples and one soap sample contained Triclosan beyond the permitted quantities, according to the Times of India.
The research informed that a majority of the personal care products including cosmetics have Triclosan in the proportion of 0.1-0.3 percent in them. This chemical is also found in high concentration in sewage water sludge, which is in turn used for agricultural purposes and may affect the plants and animals as well.
"It is a disturbing trend that we are finding triclosan in such high concentration in toothpaste that is used every day .It is even present in toothpaste meant only for children. The long term health effects of the chemical are worrying," Piyush Mohapatra, senior programme coordinator at Toxics Link was quoted by the TOI as saying.
The NGO has raised an alarm that despite many countries disallowing the use of Triclosan in toothpastes, India has no such rules in place, especially when safer alternatives are available.
How Triclosan can be toxic?
Triclosan, according to most recent studies, weakens the body's immune system by causing damage to microbiome (groups of millions of microbes in our body) that impact immunity and are also related to various serious disorders.