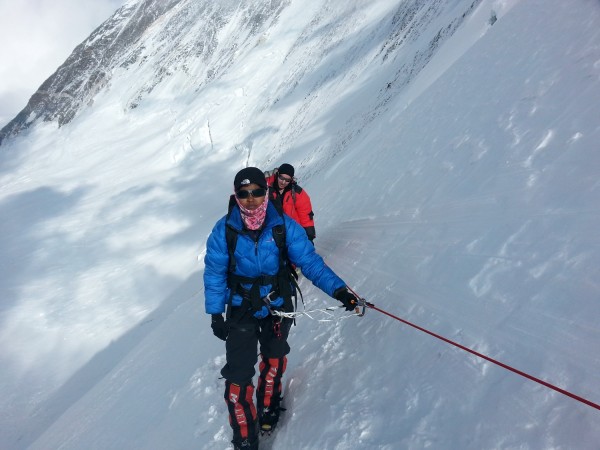 A teenage girl from Nizamabad district of Andhra Pradesh state, India, created history on Sunday by becoming world's youngest woman to conquer Mount Everest, the highest peak in the world.
Malavath Poorna, a 13-year-old class IX student of Andhra Pradesh Social Welfare Residential Schools (APSWRS), accomplished the feat of scaling 8,850 metres (29,035 feet) summit on Sunday and pitched the Indian flag at 6.00 am.
She was accompanied by Sadhanapalli Anand Kumar, an 18-year-old from Khammam district and a student of APSWRS, when she completed the historic feat. Nizamabad and Khammam districts erupted into celebrations after they reached the summit.
The duo was picked by APSWRS from 229 residential schools in the state. A total of 108 students were initially selected, out of which only 20 passed the four-stage screening test for further training at Darjeeling Himalayan Mountaineering Institute from 26 October to 16 November. They completed their mission on Sunday after a 52-day long expedition, and officials said that they were on their way back to the base camp.
Malavath Poorna climbed Kanchenjunga, which is the third highest mountain in the world and got 'A' to qualify for climbing the Mount Everest on 4 April from Kathmandu along with Kumar, a son of a cycle mechanic. Her historic feat on Sunday could come as an inspiration for millions of people not only in India but also across the globe, as she had to fight all odds being from a poor family. She is also the first tribal girl to conquer world's highest peak.
Her parents, Laxmi and Devidas, who are daily wage workers at Pakhala village of Siriconda Mandal, Nizamabad district, said that they were happy for their daughter's world record feat. They knew that she would do well in life, as she is not only good at academics but also at extracurricular activities.
It may be recalled that many climbers and guides abandoned plans to climb the mountain from Nepal side after 16 Sherpas were killed by an avalanche in April this year. The window for climbing the mountain ends on 25 May, as it is not safe there after with the temperature getting warmer.
Jordan Romero of the United States of America is the youngest person to climb Mount Everest. He scaled the peak on 22 May 2010 when he was 13 years, 10 months and 10 days old. Before him, Temba Tsheri Sherpa from Nepal reached the summit of the mountain at the age of 16 and 14 days.
More than 4,000 climbers have reached the summit of the world's highest mountain ever since Edmund Hillary from New Zealand and his guide Tenzing Norgay conquered it on 29 May 1953 and this week marks the 61st anniversary of the conquest.
(Image Credit: APSWRS Official Website)