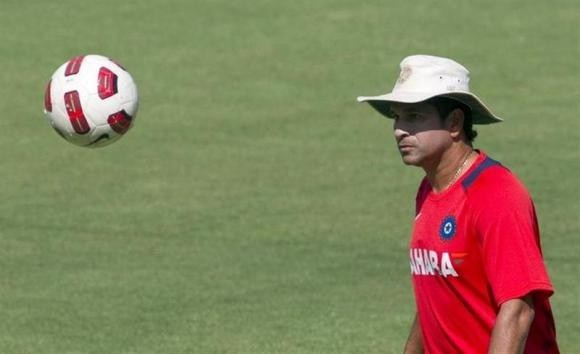 All that football in India required was a platform for local talents, as interest in the game has always been there. The likes of legendary cricketers, Sachin Tendulkar and Sourav Ganguly, are all set to give football the much stage in the form of Indian Super League (ISL).
The eight franchisees of All India Football Federation's ISL have been announced by the promoters of the league - IMG Reliance and Star India. The other names associated with the league are Bollywood stars Salman Khan (Pune), Ranbir Kapoor (Mumbai) and John Abraham (Shillong). Sachin is a stakeholder for Kochi in association with PVP Ventures, while Ganguly backed team Kolkata along with Spain's Atletico Madrid.
The base price for the teams started at ₹12 crore and according to reports, Kolkata went for the highest price of ₹18 crore. The first season of ISL is scheduled to be held between September and November this year.
"I will always remain a sportsman at heart who is keen to positively impact the sporting fabric of the nation," Tendulkar said in a statement. "The Indian Super League presents a great opportunity to develop a platform for the youngsters to learn and enhance their talent to develop into outstanding players.
"It has been an interesting experience interacting with the young, passionate team at PVP Ventures led by Prasad Potluri. Based on the various insights shared by the team, the opportunity of the Kochi club seemed like a compelling and challenging proposition.
"With the Kochi club, we will strive to 'score our goals' and play a part in developing the game of football across the country."
The IMG-Reliance had signed a 15-year contract with AIFF in 2010 and is now all set to rediscover football in India by promoting ISL.
"Termed as an unrivalled footballing event, the Indian Super League being planned under the Football Sports Development Pvt Ltd. aims to ignite a revolution in the sport and ultimately enable Indian football to thrive and perform at the highest level on the international stage," IMG-Reliance said in a media release.
The eight franchises:
Delhi: Sameer Manchanda led DEN Network
Bengaluru: Sun Group
Goa: Videocon
Guwahati: John Abraham & Shillong Lajong
Kochi: Sachin Tendulkar & PVP Ventures
Kolkata: Sourav Ganguly, Harshavardhan Neotia, Atletico Madrid, Sanjeev Goenka, Utsav Parekh
Mumbai: Ranbir Kapoor and Bimal Parekh
Pune: Salman Khan with Kapil Wadhawan and Dheeraj Wadhawan of the Wadhawan Group
(Ed:AJ)