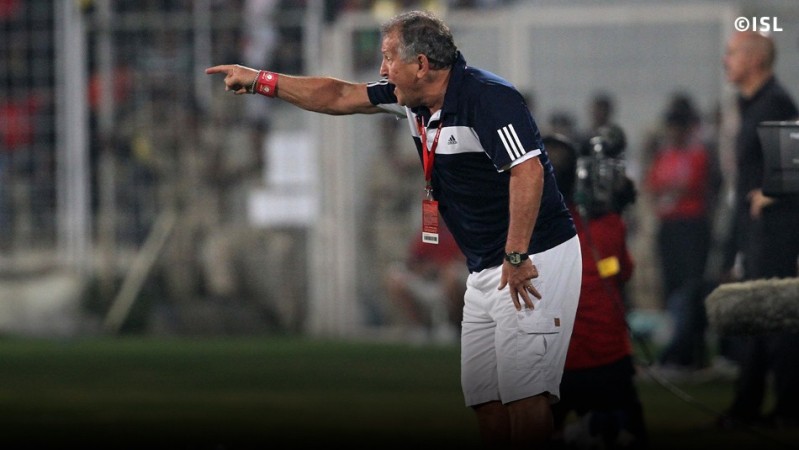 Atletico de Kolkata boss Antonio Lopez Habas may face disciplinary action and a possible suspension following allegations that he punched FC Goa's Robert Pires during a tunnel bust-up at half time.
The 10th Hero Indian Super League match, which ended with Kolkata beating Goa 2-1, turned out to be very turbulent as goalkeeping coach Pradipkumar Bhaktawer was sent off, Gregory Arnolin sustained a cut on his left eye and Miguel Gonzalez Rey was left with a bandaged head.
Apart from the chaos on the pitch, where eight players were booked, the teams were also involved in a tunnel bust-up during half time at the Fatorda Stadium, where Zico accused Habas of punching Pires.
"Pires said he was punched on the face by the Atletico coach and it is very shameful," said Zico, according to Goal. "I am telling you what my players told me and I didn't see that myself but I don't think that Pires will lie and say something that didn't happen."
The former Japan boss, who further accused Kolkata of playing "American football" due to Fikru Teferra and Gregory Arnolin's constant tussles during the match, claims that the half-time break ended with him trying to calm his players.
"And when the team entered the field in the second half, they were very nervous and during the half time we were only trying to control their nerves and calm them down."
The Brazilian legend says that FC Goa will be submitting a formal written complaint to the authorities over what happened during half time.
"I don't know if the referee saw it but it will be reported. We will be submitting a written complaint," he stated.
Meanwhile, Rajat Ghosh Dastidar (an Atletico de Kolkata official), who claims to half witnessed the entire tunnel bust-up, narrated a different version of events, insisting that Goa were the ones who came to their dressing room and started the scuffle.
"Everything happened in front of our dressing room. That means we never went to them, they came to us. If we had gone to them, the fight would've taken place in front of their dressing room. But that is not the case. It clearly shows that the intention of fighting was from the opponent and not from our side," Ghosh told Goal.
Gosh also subtly indicated that Zico's claims of Habas punching Pires was way off the mark.
"It is really very unfortunate what Zico has said. He is a legendary player and coach. I met him before coming here, we hugged, and everything was fine. So I don't think there was an issue about it and we are happy the way the game ended," said the former East Bengal and Mohun Bagan custodian.