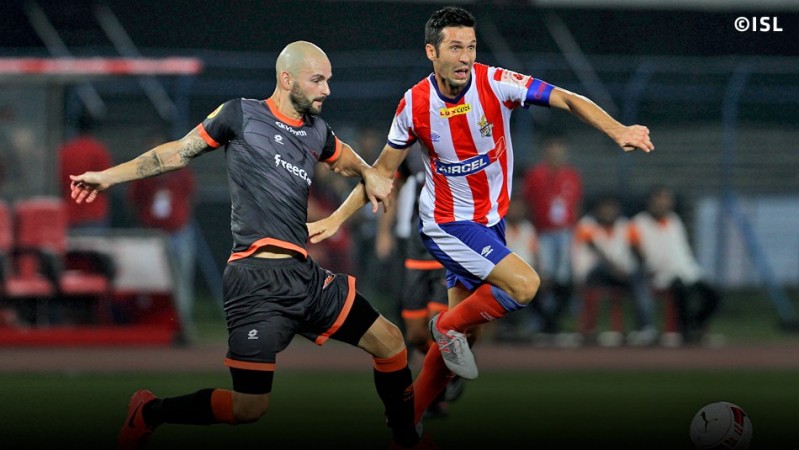 Delhi Dynamos midfielder Hans Mulder says that his side are happy with a 1-1 draw against a very strong Atletico de Kolkata side at the Salt Lake Stadium, despite them having a chance of winning the game following the sending off of Rakesh Masih towards the end of the game.
After a very quiet first half, it looked like Kolkata would record their third successive victory in the Indian Super League after Jofre broke the deadlock in the 49th minute. However, the Dynamos continued searching for an equaliser, and they were soon level thanks to an absolutely brilliant strike from Pavel Elias.
Although the Dynamos had a chance to claim a late victory over Kolkata following Masih's sending off, Antonio Habas' side managed to hold on to the draw.
And Mulder insists that he and his teammates are satisfied with the results.
"They got a red card towards the end of the game, and if we had more time to play, maybe, we could have won here, because we were eleven on ten," the Dutch-Spanish midfielder told ISL's official website.
"In the end, it was a tough game, a few fights, but when we look at it tomorrow we'll be happy with this point from Kolkata as they are a very good team."
Meanwhile, Kolkata boss Habas also insisted that he is satisfied with the results despite expressing his frustration at his side's inability to "kill the game".
"I am very satisfied," the Spaniard told Goal. "We had many chances to score the second goal, but couldn't score. We played against a good team today."
"We took advantage and had chances later in the game. But, we couldn't kill the game. We couldn't convert," he added.
Habas also pointed out that his side were a little more tired as compared to the Dynamos due to them having played against NorthEast United on Thursday.
"Everyone knows that we played on Thursday and they played on Tuesday. It was round 3 for us, while they were playing round 2. We can't do anything about the fixtures. We are very happy with the result," he added.
Finally Habas threw some light on the injury of Atletico De Kolkata's marquee player Luis Garcia, who was forced off the pitch just before half time.
"He has pulled his hamstring. He needs rest for 24 hours now, as he was tired. We will check again after that," the former Valencia boss added.