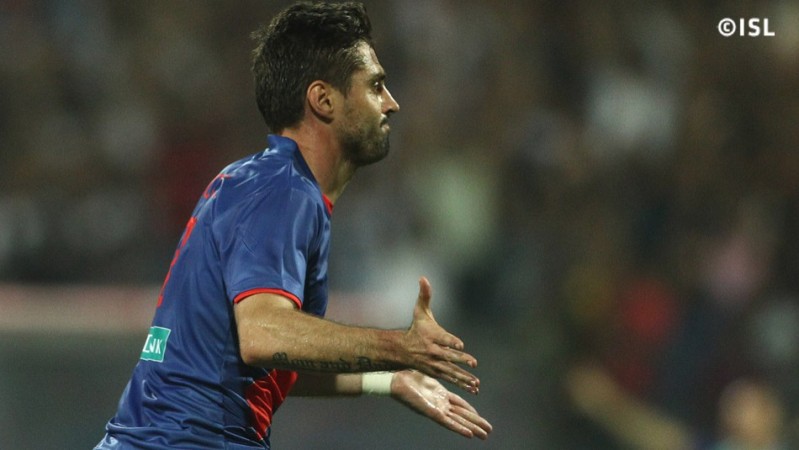 Mumbai City midfielder Andre Moritz played down the importance of his hat-trick in his side's crushing 5-0 win over Pune City in the Indian Super League on Saturday, insisting the whole team was responsible for the win.
A treble from Moritz (the first in ISL), coupled with strikes from Subhash Singh and Johan Letzelter, proved to be too much for Pune, who were not even able to get a consolation goal.
Although Moritz, who is on loan from South Korean side Pohang Steelers, undoubtedly played a big hand in Mumbai's thumping victory over Pune, the Brazilian refused to take credit, insisting that the win was an overall team effort.
"I think it was not only myself but the whole team, we all played a really good game," the former Bolton Wanderers midfielder told ISL's official website after the match.
Moritz said he was especially impressed with his team's dominating performance against Pune, following their 0-3 defeat to Atletico de Kolkata in the opening fixture.
"It is very difficult to come back from a 3-0 defeat, but here in the next game everybody steps up and plays like this; it's really very difficult, though it happens," he pointed out. "The boys are amazing, every training session we have, it seems like a family. I'm just glad to be part of this group and I'll give my 100 per cent on the pitch."
The 28-year-old went on to praise Subhash, who bagged a goal against Pune, insisting that the Indian striker had "a really good game".
"He's showed that he's a good player, he played a really good game today and I'm happy to play together with him."
Finally, the Brazilian urged his teammates to continue "working hard" and not to get carried away, following their comprehensive win over Pune.
"In football, people have short memories, when you lose badly people say Mumbai is not good, when we win 5-0 people are saying we are the best team in the league. We need to keep our feet on the ground, keep our focus, keep on working hard and it will happen," Moritz added.